Updated: May 17, 2013
Published: May 17, 2013
BlackBerry Live – Recap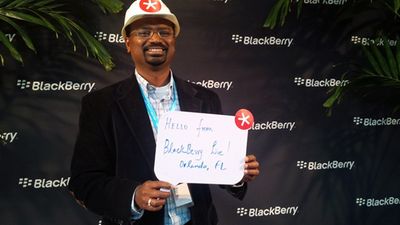 Just got back from BlackBerry Live in Orlando! A well-attended event with news for developers – not just who develop for BB10 but for others as well. This is the first time BlackBerry has co-hosted both their Live and Jam events with an estimated 5000 people attending.
The CEO of BlackBerry, Thorsten Heins, started the proceedings at the General Keynote. He believes that the company has reached solid ground after a lot of ups and downs in the last 12 months. As expected, he was very optimistic on BB10's prospects, emphasizing that BB10 has been built for mobile from the ground up and not a retrofit. He also stressed that BB10 OS has the best security and privacy implementation among all mobile operating systems. This is key for BlackBerry's traditional Enterprise customers. The first announcement of the day was the availability of BB10.1 for Z10 customers in the US later this month. Then, there was excitement in the crowd when Mr. Heins announced a new device, the Q5, targeted towards emerging markets. The Q5 is a low cost version of the Q10 device with physical QWERTY keypad, coming soon to AT&T. Besides the Q5, the news that created a lot of buzz was BlackBerry opening up its popular BBM service to Android and iOS users.
As customary with Keynotes there were also customer testimonials. Senior executives from Mercedes Benz and IBM shared their experiences with BB10/QNX. Mercedes Benz is using BB10/QNX in their cars to drive a whole new user experience. IBM mentioned that they were impressed with the multi-tasking capabilities of BB10 – 20 apps active concurrently. There was also a video call demo on a Bentley car. The car console is powered by QNX and managed by BlackBerry Hub; therefore transitions between a BB10 phone and the car is expected to be seamless. This demo seemed similar to other demos from past shows.
Frank Boulben the Chief Marketing Officer highlighted that BlackBerry customers are hyper connected, multi-taskers, highly productive, and ambitious. It is natural to expect the roadmap of BB10 to be geared towards this customer base. Developers should also design apps that would appeal to this customer category. Talking about design, Alicia Keys the Global Creative Director for BlackBerry, was on stage to launch the BlackBerry Scholarship program for college students focused on STEM subjects. She also produced the Keep Moving Experience concert at Universal Studios that evening.
Alec Saunders, VP of Developer Relations, kicked off BlackBerry Jam. Lots of news for BB10 developers here! There are 120,000 BB10 apps in BB App World with more than 50,000 of them coming in the last four months. Increased developer membership by 77% and created more than 100 User Groups. BlackBerry has prominently featured several developers in the BB Store Carousel. One developer, Space TV+, saw a 139% increase in revenues and 39% in free downloads when featured! The most interesting stat was that app revenue per user is 2X of other storefronts with more than 75% of the paid transactions completed through Carrier Billing. AT&T was one of the first carriers to integrate carrier billing in App World.
The conference had several focus technical sessions about BB10, BES, BBM, and other interesting topics. All the content is available here. Overall the event was very well organized and executed. It was great to see a lot of people at the event with renewed optimism for BB10. With several new device APIs for peripherals, geofencing, analytics, gamepad, secondary HDMI, notifications, custom fonts, screen services etc. expected to be released starting June it looks like there is positive momentum building for BB10 and its developers. If you've been on the edge about BB10 you should consider a rethink!
If you made it to BlackBerry Live, comment below on your favorite highlights from the event. For more photos of the event check us out on facebook.
---
Share this post