Updated: Jan 02, 2016
Published: Jan 02, 2016
Behind the scenes: What's up for grabs in the Swag Room at AT&T Developer Summit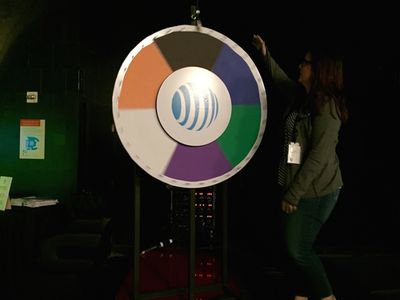 Update: We are adding the time slots for each wristband color as we spin the wheel.
10:00 – 11:30am – Purple
11:30am – 1:00pm – Black
1:00 – 2:30pm – White
2:30pm – 4:00pm – Blue
4:00pm – 5:30pm – Green
5:30pm – 7:00pm – Orange
There is so much fun tech gear available in the Swag Room at this year's AT&T Developer Summit Hackathon that we wanted to give attendees a chance to start thinking about which two items they might want to choose when they visit the room. Before we get into the products, here's what you need to know about visiting the Swag Room.
At registration in the morning, you'll be given a color wristband; this is essentially your ticket to the Swag Room. Next, head to the main Hackathon space by 9:45 a.m., in time for the opening remarks, to find out the time slot people with your color wristband will be admitted into the Swag Room. When your time arrives, head over to the Swag Room and pick one item from each of the two lists of gear available.
Fun Swag at the AT&T Developer Summit Hackathon
With everything from speakers, to gamer backpacks, to a mystery box of goodies, it might be tough to make your pick on the fly. That's why we went behind the scenes to let you know what's available. Here is a list (in alphabetical order) of fun tech products we have up for grabs in the Swag Room, so you can start thinking about what you might want to pick.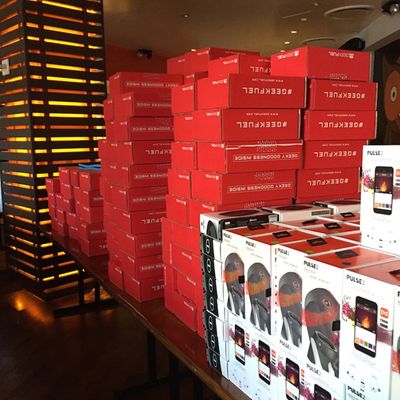 Amazon Echo – The Internet-enabled wireless speaker includes a personal assistant named Alexa, who can answer your questions, stream your music, read you books, and even control some of the Smart Tech in your home.
ASUS Rog Shuttle II Backpack – Perfect for gamers on-the-go, this ergonomically designed backpack can hold a 17-inch notebook. Loaded with hidden pockets, use the water resistant pack to transport you favorite mobile tech.
Geek Fuel Box – Part of the fun of these boxes is the not knowing what's inside. That's why we're not telling you what's inside the Geek Fuel Box, but as many of you know every box includes a shirt, so be sure to provide a shirt size if you pick this option.
Harman Kardon OMNI 10 – You can setup this wireless (Bluetooth and Wi-Fi) HD speaker to have your favorite music follow you from room-to-room with just a touch of button.
iFrogz Tadpole – You'll rarely find yourself looking for a Bluetooth speaker on-the-go when you have one of these mini speakers with you. Don't let the diminutive size fool you; it is capable of producing big sound.
JBL Pulse 2 – Take the party with you when you use this wireless speaker. This splash-proof Bluetooth speaker sports an interactive light show.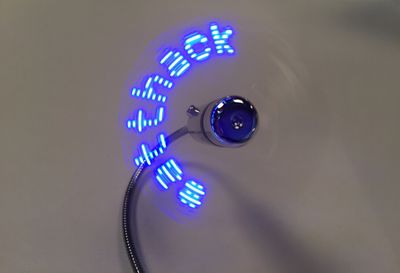 Nortek USB Fan – If you get a little warm while you work, you'll love this petite fan that you can plug into the USB port on your computer.
Plantronics BackBeat Sense – Bluetooth headphones so smart it will automatically pause your music, when you slide them off your ears. You can pair these headphones with two devices, so listen to music from one device and take calls from a separate smartphone.
Samsung Gear S2 – The sleek smartwatch that will help you keep track of your health, get info (maps, email, and control music) you want from your smartphone, and even use Samsung Pay to purchase goods with a wave of your arm.
ZTE Blanket – Perfect for long flights, this blue blanket will keep you warm and cozy.
Want to see all the gear up close? Watch Geeks Life Luria Petrucci unbox the items in the video below.
Additionally, there may be other tech products available for developers throughout the event such as Intel IoT Developer Kits, Seeed Grove Starter Kits, and boards from St Micro and NXP Semiconductor. Be sure to check out the entire Hackathon space if you're attending the hackathon.
We are broadcasting live at #ATTDevSummit on Periscope January 2nd – 5th. Just follow us on Periscope (@attdeveloper) to join the fun.
---
Share this post