Updated: Feb 04, 2015
Published: Feb 04, 2015
Average Foreground Battery Drain for Android App Categories – An M2 App Insight Report
Authored by David Peterson, Product Manager at M2Catalyst. This is a modified version of a report previously published by M2Catalyst.
This report on the average foreground battery drain rates of over 30 different Android app categories is provided by M2 App Insight, a powerful community-based performance analytics solution for app developers. M2 App Insight utilizes a database of over a trillion app performance data points from over 1 million Android apps across over 16,000 device types to improve app life for consumers and app developers alike.

Battery life is a precious resource for Android users, and your app's usage of battery life can greatly affect how often and how long users engage with your app. If your app drains battery at a high rate, your users may limit themselves to using your apps in situations where a power source is available, if at all. In addition to reduced usage time, inefficient battery usage may lead to poor reviews, reduced engagement, and uninstalls. To see how your app consumes battery, use M2 App Insight for free to benchmark your app against your app's category, and to identify specific devices, locations, and Android OS versions where your app may be struggling.
Listed below are the battery usage averages for over 30 Android app categories, collected during the entire month of November 2014. The categories' average foreground battery drain rate is measured in milliwatts (mW), which is a standard unit of measurement to express rate of energy transfer with respect to time.
It is important for your app to use battery at an acceptable rate, and not exceed the category average in order to not irritate consumers and limit their phone usage. For example, on a Samsung S5, which has a 2,800 mAh battery, an high-battery-consuming app that has a 2,000 mW battery drain rate will single-handedly consume about 18% of battery over the course of an hour. This rate could even be greater on other device models with less powerful batteries.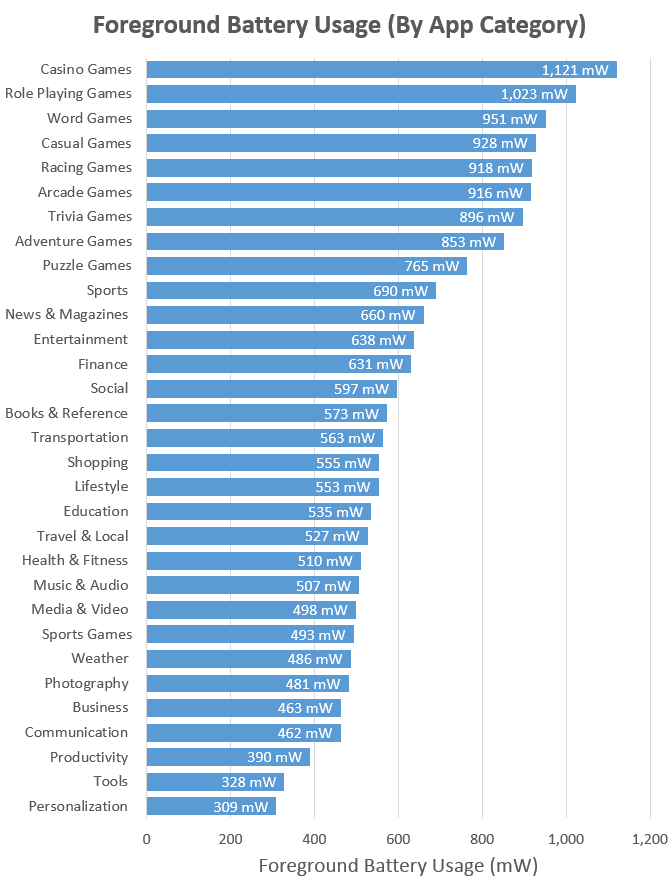 Top Takeaways
The nine app categories that drain the most foreground battery are all game categories.
Apps in categories that tend to run persistently (Communication, Weather, Tools, and Personalization) are the most battery-efficient app categories.
By designing your app to be battery-efficient, you will be allowing your app to be used more often and for longer periods of time than high battery draining apps.
Apps that drain excessive amounts of battery may suffer from poor user retention, lower Google Play reviews, and reduced engagement.
How does your app compare to the category average for memory, battery, data, and more? Go to http://m2appinsight.com/developers/ to receive your free report.
Interested in other reports?
Pinpoint device types, OS versions, carrier networks, and geographic regions where your app performs poorly, and may be causing reduced engagement, uninstalls, and negative reviews.
Track all of your app versions to check for performance improvements.
Identify competing apps that are trending in usage and reducing your users' engagement with your app.
See how your app performs across all your user devices.
If you would like to learn more about how your app is performing among the global Android audience, go to M2AppInsight.com for a free report on your app and learn more about how your app performs on all of your users' devices. Read the rest of the community app performance reports and learn more about how the free M2 App Insight SDK can help your Android apps.
---
Share this post