Updated: Apr 26, 2014
Published: Apr 26, 2014
AT&T / Tribeca Storytelling Hackathon – Event Recap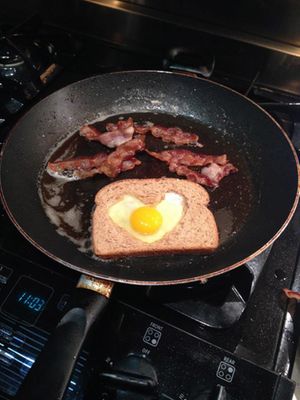 We just wrapped up our 2014 focused on storytelling and technology. This particular hackathon was designed to explore how technology could either augment or change the way people fundamentally tell stories. We brought in Vuzix M100 glasses, Pebble watches, FreeScale mBed Freedom boards, and Qualcomm Gimbles as well as developer evangelists from Pebble and Vuzix to help with the application development. You can find photos from the event here.
To liven up the experience, the event was hosted at Bennet Media Studio, which also happens to play host to the likes of Saturday Night Live and Brunch @ Bobby's. That space included five floors of awesomeness that enabled the hackathoners to freely interact, be creative and even cook some bacon and bacon infused Toad-in-the-Hole for breakfast.
As for the structure of the hackathon, the filmmakers and storytellers added a unique and strong focus an application's "story" as opposed to simply an interest in the technology the app used. This presented an interesting environment that forced the team as a whole to think through the story/use-case and actually force a couple of pivots during the hackathon.
In total, 35+ developers, designers, filmmakers, and storytellers were invited to participate and split into 5 teams. As always, there was one team that imploded during the first day due to different idea interests. Thus, four of the teams crossed the finish line:
Team Faceless – A face detection app that automatically detects faces with a @Vuzix m100 headset and enables users to share the interesting people that they meet over the course of a day! Check out the app at http://Faceless.familar.is and on Instagram.

Team Echo – Best Overall Application – An app that uses @pebble and #gimble to notify the user when they are near hidden digital art! See the presentation on Instagram.
Team Happy – Mad with @pebble, the app empowers users to share their happiest memories and emotions. It also aggregates emotions that are tied to specific locations!
Team YouAreHere – An app that is a digital analogue to a "choose your adventure" book that uses the phone and @pebble to immerse the reader/user in an interesting story! Check out this picture from the presentation.
---
Share this post