Updated: Mar 15, 2014
Published: Mar 15, 2014
AT&T SXSW Music Hackathon – Event Recap
Since 2012, the AT&T Developer Program has hosted a hackathon at SXSW that has grown over the last two years in terms of the number of completed projects. When we first started, we pulled in just slightly over ten teams and were the most tweeted about event during the opening weekend of SXSW 2012. For 2014, we worked with SXSW to produce the first ever SXSW AT&T Music Hackathon and hosted numerous developers from around the country who pumped out 31 projects over the 24-hour overnight hackathon. As an added perk to the hackathon, we kicked off an AT&T U-verse Virtual Hackathon to add additional prizes to the mix as well as getting the developers a hands on experience with our U-verse API & hardware.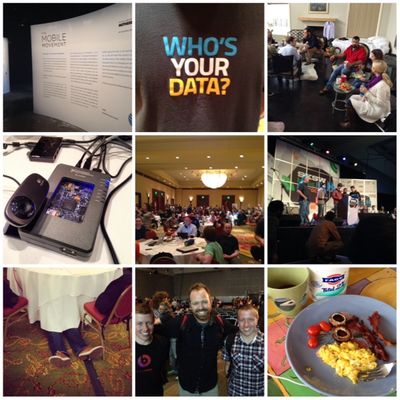 This year we changed up the experience by incorporating a developer house as well as special invitations to Universal, Sony and INgroove music showcases. The developer house was a "thank you" to previous hackathon winners, a meeting place for AT&T folks that were at SXSW and a test of what can happen when you put happy passionate developers and investors in the same space for over a week. We hosted a brunch BBQ on one of the days, courtsey of Adam Lotia and Famigo, as well as numerous breakfasts made by our very own Chris Belk! And, yes, with over 10 people cohabitating there were the expected air mattresses everywhere as well as the need for ear plugs at night.
A big shout out goes to the fantastic API sponsors that trucked out the swag for this event as well as the spectular judge line-up that that included the following: Alex Ebert (frontman for Edward Sharpe and the Magnetic Zeros), Jermaine "Mack Maine" Preyan (rapper and President of Young Money Ent.), James Williamson (guitarist for The Stooges/Electrical Engineer), Stephen Garcia, (Executive Director of Product for Beats Music), and Stephen White (President of Gracenote).
With numerous all nighters being pulled by the various teams, the developers resorted to hilarious methods in getting even just a couple of minutes of sleep. Two of the notable apps that were crowd favorites were Karaoke Glass and CrowdScaler. Karaoke Glass is a karaoke app made for Google Glass and essentially operates just like a karoke machine, but for your Google Glass. Even though the judges weren't that impressed with the app, the audience loved it. Especially when the developer sang "All About The Pentiums" with the app. CrowdScaler is an app that enables the artist to take control of the audience's phone to create an effect similar to this video. After you watch the video, imagine if you could remote control 30k+ phones in a stadium to play a Christmas carol!
Before we sign off from our developer house at SXSW, we wanted to say thank you to all those that stayed at the house and to those who visited. Your openess in talking about your passions and willingness to contribute to the discussion at hand created new friendships and opened many doors.
Make sure to check out the full list of projects created at the hackathon and here are the winners of the 2014 SXSW AT&T Music Hackathon:
AT&T Grand Prize – $10,000 – Moot

Best Artistic Prize – $2,500 – ARPop

Best Audience Prize – $1,000 – Crowdscaler
P.S. – Orange Banana Orange Banana Orange Orange Banana Banana Banana Orange Banana Orange Banana Orange Orange Banana Banana Banana Orange Banana Orange Banana Orange Orange Banana Banana Banana. A new game that we saw a demo of and are eagerly awaiting the release. Joel, we are looking at you!
P.P.S. – Check out this other highly addicitive game (for you sodoku and math fans) on your mobile phone in the meantime: http://gabrielecirulli.github.io/2048/
---
Share this post