Updated: Oct 20, 2014
Published: Oct 20, 2014
AT&T's Free Developer Tools Helps Developers Make Better Apps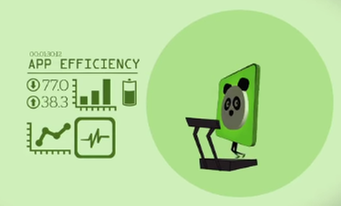 The following interview was conducted by Clark Buckner from TechnologyAdvice.com. TechnologyAdvice is a resource for educating and connecting buyers and sellers of business technology, as well as a proud media sponsor of AnDevCon. Make sure to check out their tech conference calendar for tech-related events.
The Application Resource Optimizer (ARO) is a free tool that iOS and Android developers can use to optimize the performance of their mobile applications. Doug Sellers, the technical lead for this open source project from AT&T, spoke with TechnologyAdvice's Clark Buckner about this helpful program. At this year's AnDevCon talk, Doug built on his past ARO discussion with a slightly new topic regarding network optimized apps or building Flexibly Network Aware applications.
What Are Flexibly Network Aware (FNA) Applications?
When a mobile app developer knows what network their app is being used on, they can code their app to become network aware. This allows for better optimization of apps that rely on communications between an end user and a server (as most apps do).
Developers have zero control over what networks their apps are used on, but once they build apps that take different networks into account, they can optimize their apps for each network.
For instance, apps on 2G (slower network) phones shouldn't act like they're running on LTE (faster network) phones and vice-versa. Developers can access network data on both iOS and Android phones, and ARO helps devs discover how they can better incorporate that data into their mobile apps. When apps are flexibly network aware, the end user sees a marked performance benefit because neither their battery nor their data plan are used efficiently.
Many companies have already adopted such network flexibility in their mobile apps, coding their apps to adapt on the fly in response to a user's network connection. For example, Facebook's app doesn't load large images or autoplay videos for users on slow networks. Consequently, users on slow connections won't feel frustrated by long load times or battery-draining usage, garnering better customer interactions.
In support of creating FNA apps, AT&T is beta testing the AT&T Network Attenuator. This Android mobile app allows developers to test their mobile app or website under different network conditions without leaving their desk. With the Network Attenuator, the developer can set the smartphone to 2G or 3G with different congestion levels to see how their app will behave. Testing this way is much easier than trying to replicate the same network condition through field testing and definitely less costly than getting a hold of a Faraday cage set up. The Network Attenuator is in open beta test at developer.att.com/attenuator.
Where Does the Application Resource Optimizer Fit In?
The Network Attenuator is a continuation of the effort AT&T has been leading with ARO since early 2012 to provide free diagnostic tools to help developers optimize their apps for mobile. Essentially, ARO helps fix a central issue that plagues smartphone users the world over: short battery life and data inefficiency. ARO assists developers in discovering possible issues that could negatively affect performance and battery life. For instance, ARO:
Improves data efficiency
Helps eliminate duplicate data sent to users
Increases app speed and responsiveness
Enhances battery longevity
Developers appreciate ARO because they know that users engage more often and post more positive reviews when apps are quick to load and highly responsive to the user's input. In other words, ARO effectively enhances the end-user's total app experience.
ARO Best Practices
How does ARO know what to change in order to make a mobile app better? ARO checks the app against 25 different best practices (caching methods, file sizes, duplicate files, etc.) and then grades the app based on that criteria. This objective set of checks can be used by both new and experienced developers and testers to ensure that they deliver apps that don't impact customer's battery or data plans. In working with many of the most popular apps, we've found that no apps are immune to imperfections. With ARO, the folks responsible for quality, can easily determine if an app fails a best practice (e.g. duplicate data) and get more information on how to resolve it (e.g. caching).
ARO's findings provided nearly a 40 percent increase in battery life for a popular social word game. They decreased the length of time the device's radio needed to be turned on by combining the app's functions, advertisements, and analytics. Less on/off radio usage equals better battery life. In other cases, ARO assisted app developers with cutting their startup times from five seconds to less than one second.
Looking Ahead For ARO
Sillars and his team at AT&T have a lot of work ahead of them with the on-going effort to stay ahead of all the mobile platform updates. They also hope to remove the current rooting requirements, so that more devs will be able to conduct tests on more devices more easily. To learn more and to get your free copy of ARO, go to developer.att.com/aro.
Listen to the Complete Interview Below
---
Share this post