Updated: May 04, 2014
Published: May 04, 2014
AT&T Public Safety Focused Mobile App Hackathon – Event Recap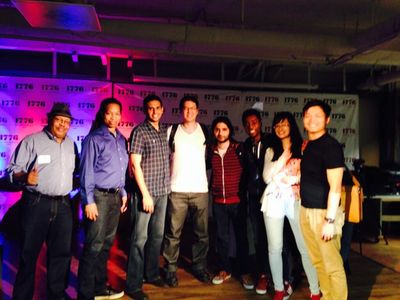 Washington DC is, perhaps, the best place to kick-off a public safety focused hackathon series because you have the policy makers and enablers all in once place. This last weekend, we even had Admiral Thad Allen of Booz Allen Hamilton come out to kick-off the event along with our friends at the Dept. Of Homeland Security Mobile Applications for Public Safety program. All told, 98+ attendees came out to the hackathon and 15 teams competed in a wide selection of challenges that addressed the public safety space. (See the top Three Winning Teams at the 2014 AT&T Public Safety Hackathon in DC in the picture on the left).
Admiral Thad Allen kicked off the hackathon with thought provoking questions centered around government, technology, social media, and expectations. Over the last decade, technology and social media interaction have evolved at an ever increasing pace and "social norms" have changed rapidly along with technological advances. Admiral Allen urged the hackathon attendees to consider not only the users and use cases, but also the societal "norms" that govern public interactions with these new technologies (social and otherwise).
To further immerse the developers in the public safety space, APCO, Apperian, Google, Intel and McAfee and others showed their support by bringing in a number of public safety and first responder professionals to help provide a first hand perspective. The developers were able to converse and quiz these first responders so that the hacks would be better suited towards their real world needs and the constraints that those situations present. Additionally, we have to give a big thanks to Google for providing Chromebooks and ChromeCasts as raffle prizes!
Also, if you are looking for more information about developer resources, here are some assets:
Finally, a number of you had asked for links to the restaurants, presentations, and social:
If you would like to volunteer or get involved, please contact me via linkedin.com and we can amp up these events together!
As for the apps and winners, please read on:
1st Place Overall – $10,000 – Team Beacon

2nd Place Overall – $3,000 – Team Beckon

3rd Place Overall – $2,000 – Team Glass of Life

Best Emergency Preparedness App – 1st Place – $5,000 – Team Root

Best Communications App – 1st Place – $500 – Team Citizen Reporting

Best Situational Awareness App – 1st Place – $500 – Team Fire Sensor Tag

Best APCO Location App – 1st Place – $500 – Team Beckon
Team IncidentReporter – Under a stressful emergency situation, as a human being our judgement is usually clouded by emotion. One would find it difficult to properly collect and report the incident effectively. This app will assist both inexperienced and experienced first responders to effectively collect and report the incident to the command and control center. The app will guide the user step-by-step in a very simple user interface to collect critical data such as environmental condition, nature of emergency, number of casualties, number of injured victims, or type of support needed, through a push of provisioned icons and submit to the psap electronically.
Team YunhoATTResponder – With Yunho ATT Responder, first responder personnel at civic events can immediately provide informed support with the aid of their mobile devices – with or without Internet access.
Team Beckon – Our app allows first responders to find persons in distress upon launching our app. In situations of extreme peril, iBeacon can be set to turn on immediately to work in conjunction with geo-fencing during fly overs to find buried cellphones.
Team City Connect – ?Still stuck in an old telephone model? City Connect provides a communication platform connecting the citizens with City Emergency Services to provide augmented context when they are in distress. The app provides a rich communication platform integrating all the sensory data, but with strict security controls, letting citizens be in control of what they want to share and when. City Connect can contact citizens based on the situation in a timely manner with live feeds the help save lives. City Connect will have control of what they want to push and citizens will have control on what they want to get.
Team Root – We have created a crowdsourced location tracking system for emergency responders. In our app, emergency teams can record notes for when other personnel visit an area. The first responder will then receive watch notifications when they enter the area or they can view the overall data on a 3D map on an iPad.
Team CitizenReporting – We have developed two complementary Android apps 'CitizenReport' and 'First Responder Alert' to help in disaster management. The CitizenReport is for use by a community of volunteers, where they can subscribe to a topic (i.e. damaged buildings) and report incidents at their location with a picture and a topic. When subscribed to a topic, the volunteer will receive updates by other volunteers. These updates are also funneled to first responders who have indicated that they are experts in handling that specific topic.
Team Health Info – Share Medical Information when you are unable to communicate.
Team Glass Of Life – Glass of Life helps first responders to extricate cars using Google Glass and augmented reality to see schematics of cars.
Team Lifesavers – Tribute to Danwon-Says I love you, self upload of floorplans, Quiet 911, etc.
Team EmergMap – Share and Find emergency situations and locations with people all round the world.
HealthSnap – HealthSnap brings critical health data to the first responders, snd helps save time and provide the data ahead of time.
Team Beacon – Apps that enable people who may be disabled, injured, or lost to quickly and silently communicate their condition and location to their circle of friends, family, and professionals. A companion app enables First Responders, family, and friends to see in real-time on a Google map their location and condition.
FireRescuer – An App used to help fire fighters search and rescue people in a fire.
Team FireSensorTag – Our app FireSensorTag gives first responders at a scene the ability to wear or drop sensor tags that report ambient temperature, IR temperature, humidity, pressure, latitude, longitude, and other critical environmental data to a central command center.
---
Share this post