Updated: Jan 07, 2014
Published: Jan 07, 2014
AT&T Network Attenuator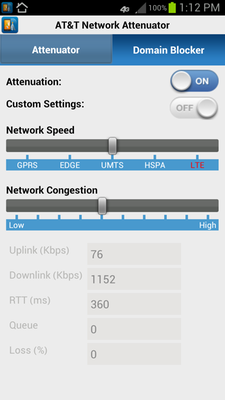 Most app developers live in highly populated areas. There are many advantages to these areas – the least of which is a good cellular signal for testing. Since the major wireless carriers have LTE (or an equivalent) launched in every major metropolitan area in the US, testing your mobile app during development is a snap.
But what does your app look like in rural areas with less than ideal coverage? How about in the emerging markets of Africa, Asia, and South America where you have millions of potential customers, but perhaps there isn't a 3G network (EDGE or even GPRS)? iOS development tools allow you to add latency to your network settings to test your app under different network conditions. The Android emulator also has a similar feature. But what if you want to test your app on an actual Android device without a copper Faraday cage and specialized testing equipment? You were out of luck.
Yesterday, at our Developer Summit, the AT&T Developer Program announced a beta release of its Network Attenuator app for Android. With this application installed on a Samsung S3, developers can lower the network throughput and increase the latency of their device. This will allow you to test your application in less than ideal network conditions.
Coupling the AT&T Network Attenuator with our Application Resource Optimizer allows you to see exactly which resources are blocking on slower networks – giving you the information you need to optimize the customer experience for those users.
Another awesome feature of the Network Attenuator is the ability to block specific domains from your application. Testing your application when blocking ads, or 3rd party widgets will help you avoid Single Points of Failure (where 3rd party outages actually break YOUR application). In the example below, no data from the att.com domains will be allowed to load.
AT&T's Network Attenuator currently only runs on the Samsung S3 with a custom ROM installed. We provide all the instructions, and it is really quite easy to set up. In order to use the tool, you have to request to join our limited beta. Send an e-mail to me, or to developer.program@att.com to get the SDK agreement and get started.
---
Share this post