Updated: Oct 16, 2011
Published: Oct 16, 2011
AT&T Mobile App Hackathon – Washington DC Recap
Sean Sheedy. Happy Birthday and thanks for spending it with us at the hackathon! Your project was pretty darn impressive. Next time we come to DC, we will have to bring you out a belated birthday cake as well as hook you up with some of Bryan Colligan's developers and have you guys create an interactive musical instrument out of old Android phones!
Here's a picture of Sean hard at work on his Android Accessory Developer Kit. Just check out all that hardware!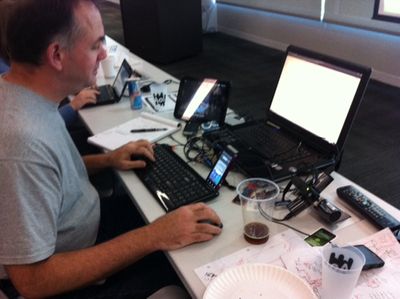 The turn out at the Washington DC Mobile App Hackathon was impressive: 130+ developers drove out to the beautiful AOL campus in Dulles, VA to hack for an entire day. Some of them came as far as the Baltimore area and that is quite a drive.
I have to give a big thanks to Chida, Shiva, and Peter for helping pull in such an awesome and dedicated crowd as well as Chris Gibson (AOL) for arranging all of the on-site logistics such as security and HVAC. I have to say, the AOL campus was an impressive and creative space. The space is very condusive towards hackathons and brainstorming sessions. Here are some pictures of the space and the event so you can see for yourself: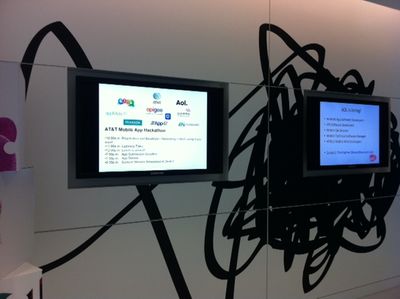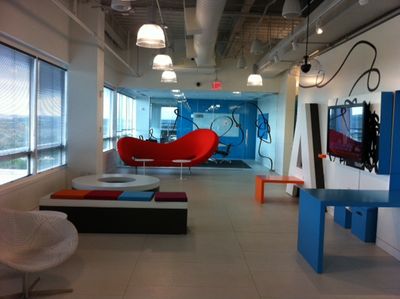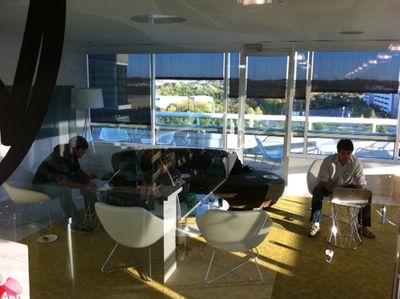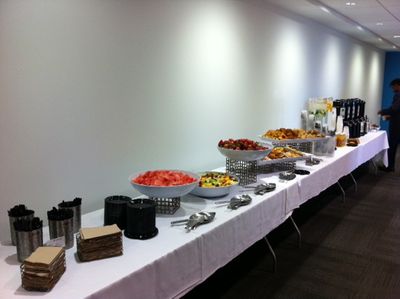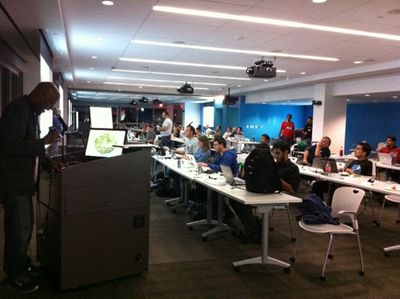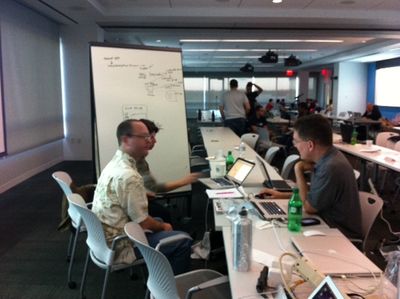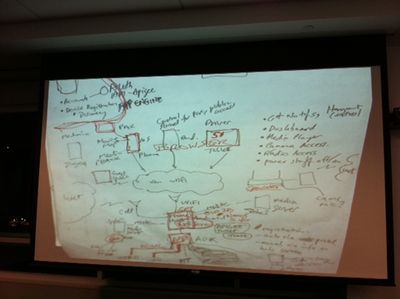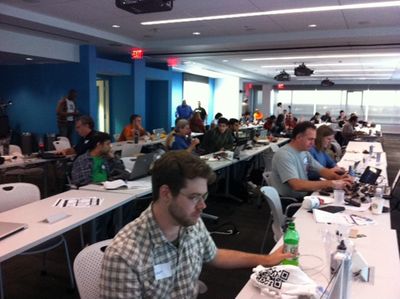 Overall, 15 mobile apps were created and here they are in no particular order:
WikiScavenger (1st Place) – finds nearby places that have wikipedia articles but no photos, so you know to go take a photo and contribute it to wikipedia! Live demo:http://demos.filbertkm.com/wikiscavenger/ (web app + should work in Android and eventually iPhone / iPad and more)
Moodz (2nd Place) – This app is all aboiut the Quantified Self and it enables you to record your mood down to the second. Right now it accepts as input the mood of the user on an Android Mobile device. It logs this in a database hosted on the google app engine servers. Later, moods will consist of this user entered data and other public sources (public facebook statuses, twitter). This data will be displayed in graphs where peaks can be correlated with current events (or not) or other interested things.
Pearson DK Travel Mash (3rd Place) - Technical: It enables a buyer of Pearson DK Eyewitness Travel guidebooks to interactively view suggested trips and memorialize their own trips and add user generated data to cherish their memories for a lifetime. Business model: Allows Pearson to add another revenue stream by providing an app allowing the user to mashup Pearson data with their own trip information while ensuring that the expensive printed book content is not giving away for "free" via Clould APIs.
Dodge Sprinter Controller – The dream (I'm at the very start): when you drop an Android phone into the cradle, you create a connection between the phone and the van and its accessories and onboard computer. Through the phone's wifi connection, a tablet acts as a glass dashboard, passengers' phones connect to an in-van media player, and I can control my ham radios through a GUI interface instead of the horrible mechanical UI they come with. A push-switch on the floor (similar to the high beam switch on classic cars) can be repurposed to do things ranging from keying up a ham radio, to snapping photos while driving, to acting as a push-to-talk button for voice chats (to keep road noise out of the conversation.) The phone logs to the cloud where I can review data over time, look at where I traveled, review photos taken during road trips, and let people start Hangouts with me while driving. Today: I used this opportunity to find much needed time to get the ADK and phone to talk, but mostly enjoyed meeting new people while playing with my toys, and getting started on a framework on which to build this fun project.
ReceiptTracker – Tracks receipts.
Fangout – A handy app for a sports fanatic!
CampFire – Mobile data visualization tool for compaign finance data.
Which Way – This app grabs WMATA data and plots the position of incoming trains and buses relative to the user's location. It's very much in alpha but will eventually save top possible choices as menu options and give the user a way to visualize and make one-click comparisons between possible commuting options.
vpsFlow – Monitor virtual private servers
Everything Organic – Everything Organic is a lifestyle app intended to help community to make the switch to a healthy organic living and to maintain that lifestyle.
Where4Bars – Maps cell signal strength on a topographical map so that hikers and explorers know where to go to find a cellular signal while in the woods. Where4Bars presents the user with a Google map interface that let's them plot out their intended route. The route is then uploaded and compared to a database of existing signal strengths along and near their route. This way, a traveler does not waste precious battery strength trying to get a signal. They will know in advance where to turn on their phone, and also places close to their trail they can divert to to get a signal for important communications. As the traveler uses the app, it will record changes in signal strength and later upload the data to the master database the next time the phone is plugged in.
FindKoko – FindKoko is a hyperlocal mobile sharing service. It lets users discover what others near their physical location are sharing & start a conversation. It was conceptualized to help community members help find a lost dog by broadcasting the call for help in the immediate neighborhood.
Helping Hands – The phone client can send or receive alerts from other local app users (within 5 miles) in real-time that require assistance. The client sends updates to the server for alerts made or responded to. Thus others with the willingness and ability to help local people can do so easily, and keep track of their good deeds on a website-backed server.
WhoLikes? – Stalk your friends
ATTHackathon-EventFollowUp – AT&T Hackathons keep happening periodically through out the year and participants register through eventbrite providing their twitter account ids. Once the event is over, all participants just leave off without any contact information with the exception of teammates. Our intention is to provide a one stop shop(APP) for following up with participants(using twitter) from such events. A full fledged application just needs a eventbrite url( as input) to read participants' info and provide that information for app users during and after the event.Our current application serves as a prototype. 
Finally, please add your event photos to our Facebook photo page!
---
Share this post