Updated: Oct 16, 2011
Published: Oct 16, 2011
AT&T Mobile App Hackathon – Seattle Recap
Thanks to technology, I can be in two places at once. Well… almost.

This last Saturday, Seattle had it's third Mobile App Hackathon and I have to give a big thanks to Ben Nelson, Benn Bollay (F5 Networks), Russ Whitman (Ratio Interactive), Will Power (Ratio Interactive), David McLauchlan (Buddy.com) and Jeff MacDuff (Buddy.com) for helping make the Seattle Mobile App Hackathon such a success!
I was actually in DC running another hackathon on the same day, just three hours ahead, so it was interesting watching the live stream coming from the Seattle event as well as texting non-stop with Ben Nelson as he coordiated efforts in Seattle. The goal here is to run multiple simultaneous Mobile App Hackathons across the nation so that as many developers or aspiring developers can have a place to go where they can learn to develop mobile applications and enhance their development skills.
This trial run was quite successful, so I am quite happy. For the next Seattle Mobile App Hackathon, we'll have to it up a notch and get some Node.JS developers into the speaker mix as well as cutting edge UI/UX developers.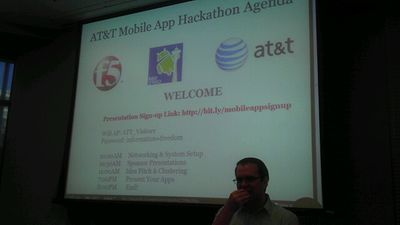 Ben and the Seattle crew did a fantastic job of making sure the developers were fed well, caffinated and filled with sumptuous sweet desserts that were provided by Sweetness Catering, a Seattle based boutique cupcake company run by Kimm Moore.

From what I hear, the cupcakes disappeared in under an hour after arriving, so if you are ever in need of soul pleasing cupcakes, tweet at Kimm via @sweetnesscater.
Around 82+ developers braved the crazy traffic generated by the Occupy Wall Street movement and pumped out 12 mobile apps over the course of the day. Here are the apps in no particular order:
Giraffler (pronouced JER – Raff – LER) (1st Place) – a raffle system application. If you have to randomly raffle off a prize, visit giraffler.com – signup and host a raffle. Share the unique raffle page or QR code so that anyone can find the raffle and enter to win. 
prycetag (2nd Place) – Similar to the SETI project but we allow you to generate income while doing nothing on your mobile phone.
Super Hero App (3rd Place) – Helps super heroes to do good deeds and fight crime, filter events by type so heroes with different superpowers can apply their efforts effectively. Allows people to request help from superheroes.
Eatfindr (4th Place) – Helps people find restaurants based off of there being availability of a set of specialty food preferences. Specializing in Gluten Free, Organic and Local.
Maze – A puzzle app for kids that challenges them to solve a simple maze. Targeted for 3+ year olds. Kids can trace the solution with their finger. The matching algorithm checks if the right solution is traced and shows an happy image if it's correct and sad/try again image if it's not.
Cooking Co-Pilot – Loads and parses recipe data from food sites and then displays in a cool way on your phone.
Wedding Planner – Assists in the wedding planning process
Billable – An expense application. It serves as a quick reminder of that relationship to you, your friends, and your coworkers. Enter a billing rate and watch the money fly. For added kicks, see it in multiple currencies. This is a remake of my existing app for WP7. The goal here is to make a mobile version across all platforms in html
MSX – Music player that plays music from a remote site.
Flow Cube – puzzle game
Chasing Cars – A red square runs around collecting white squares.
QBattle– Multiplayer world
If you have pictures, please make sure to upload them to the Facebook album or feel free to email them to me at alex.donn@att.com and I will make sure they get posted.
---
Share this post