Updated: May 13, 2012
Published: May 13, 2012
AT&T Mobile App Hackathon – Miami Recap
The weather was beautifully humid this last weekend in Miami and the developers cranked away in an awesome facility called Miamishared.com. It turns out that the space is also home to one of our AT&T partners, mobifusion.com, and there were even developers that drove out from Orlando to hit up the hackathon!
Below is a quick shot of the winners and the additional pictures can be found here.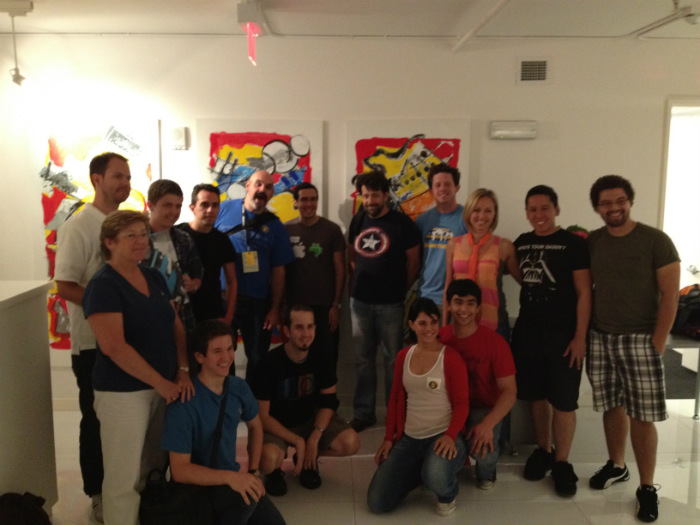 For this go around, we partnered with Volvo Ocean Race, Ericsson, MongoLab, Tiggzi, MapQuest, and Telenav to deliver the hackathon focused on geolocation and the Volvo Ocean Race API. Prizes included a ride on one of those multi-million dollar yachts and a couple of thousand dollars of gift cards. Needless to say, the developers were very happy as was the Volvo Ocean Race group. The developers came up with a number of innovative applications for the Volvo Ocean Race API and you can read more about the winners and teams:
Volvo Ocean Race Ultimate Fan App – MapQuest Prize Winner, AWS Prize Winner, Volvo Prize Winner – We don't think the sailors have it difficult enough during the ocean race. Dealing with bad weather and limited amount of living space is piece of cake compared to dealing with hundreds of thousands of fans! Our app will enable fans to interact directly with the sailors. Fans can request photos and video feeds directly from the crew, ask them questions and have them do tasks. Now let's see if the sailors can still complete the race in record times and keep the fans happy!
VolvoOceanRace – This is a prototype dynamic phone app with a snapshot of the teams and crew members, videos, calendar, Miami link and Web links to the Volvo Ocean Race website. It is a user friendly, visually appealing app that will bring more people into this amazing sport.
(im)pt – A personal trainer is limited by space and time… (im)pt solves that issue by allowing personal trainers to take on remote clients for a not-as-personal training experience. Personal training for the socially awkward penguins!
WhatUpBridge – General Hackathon 2nd Place Winner, Tiggzi 2nd Place Winner, Telenav API Winner – WhatUpBridge is a free server that lets you track infrastructure according to your schedule and notifies you when they may affet your commute.
Gorillacab – General Hackathon 1st Place Winner – Gorillacab is a social location-aware application that quickly and affordably gets riders from A to B.
Transit Layer – Is a Geoloqi platform detects when you have entered a region, and then we have an app that receives a callback sent by Geoloqi. We use that to lookup when the next bus will be coming, and it sends a message to the user!
Volvonator Jr. – Tiggzi 1st Place Winner – All the Volvo Ocean Race images you can handle. And Twitter, too!
volvoopen70.com – Hackathon Special Prize – VOLVO OPEN 70 are one of the most sophisticated Sailing machines ever built and designed. This project is aimed at glamorizing the Sailing class, by using mobile and web technology to bring event and other information to casual user.
Local-Motive – Mother's Day Special Prize – Local-Motive is a location based app service that allows the user to find nearby charities, fundraising, and volunteering opportunities. This will be a double win for users seeking services, and also organizations who desire a social avenue to promote their charity endeavors.
Moral Majority – Crowd source your answer to your moral question!
Do It 10 Times – General Hackathon 3rd Place Winner – Do it ten times is the new age loyalty card. It will help users get discounts without the effort, and the it will help the companies get repeat customers without the hassle of advertising campaings. Visit a location ten times, and get coupons in your email, is that simple!
---
Share this post