Updated: Jan 20, 2012
Published: Jan 20, 2012
AT&T Mobile App Hackathon – Las Vegas Recap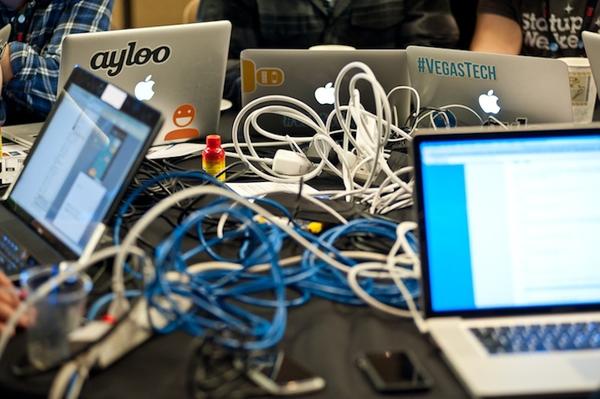 Two words sum up the AT&T Mobile App Hackathon in Vegas on January 8th, 2012: "overwhelming success."
With over 275 attendees, the rooms were packed to the gills and the app judges viewed close to four hours of presentations from 35 teams. With so many participants, the four hours of judging was only possible because of a strict 3 minute presentation time limit. Even with this limit, we ran around 6 minutes per team because of over runs and judging. Amazingly, some teams even produced multiple apps that we did not include in the judging session because of time constraints. Moving forward, we are hoping to automate a number of the processes related to app submission and judging so that the data is more easily accessible and open so that we can promote developer collaboration after the event. Overall, the quality of the mobile apps were impressive and we for sure will be following up with a number of them.
Numerous groups traveled out from Los Angeles, San Diego, San Francisco and even as far as Dallas and Chicago. For those that made the trek, our hats go off to you. We hope that you made some awesome connections and if you are looking for more assistance in building your app, please email me at
alex.donn@att.com
and I will do my best to connect you.
Here are a number of videos and blogs from the that were produced as a result of the hackathon:

A big THANKS also goes out to our numerous platform partners who supported the event on site as well as the judges and AT&T mHealth team for actively working with the developers to produce such awesome mobile apps. Additionally, I would like to call out Andrew Keen, David Williams, Ben Nelson, Kav Latiolais, Ravi Singh and Bess Ho for being so engaged with events leading up to, during and after the hackathon. Your involvement, dedication and passion really helped make the event that much better.


If you are interested in pictures from the hackathon, they can be
found here
.
As for the winners, here is a quick list. If you are interested in the specific prizes, more information can be
found here
.
AT&T mHealth API Winners
Action X-Ray – Demian Borba and Douglas Saisho
Sleepbot – Jane Zhu and Edison Wang
HopiChest – Libin Pan and Potsie Rivera
General Track Winners
FrontRunner
PrivaMobile
Rescue My Heart
GeoMessenger (

Honorable Mention)
Best business application
HTC PenUltimate API Winners (in no Particular Order)
Jot
Kaamel Kermaani
DroidHealth
Top Blackberry App
Here is a quick run-down of all the applications that were developed at the hackathon:
Rescue My Heart – An iPhone app designed to use Game mechanics & Crowd funding to motivate and engage users to reduce chances of heart diseases.
Action X-Ray – Action X-ray allows users to report and share their

physical injuries with friends and doctors via text, photo, video and voice.
GeoMessenger – GeoMessenger is a geofence aware messaging application for BlackBerry. An example use case is to email your spouse when exiting your work's geofence perimeter.
Easy Route – This app enables users to select multiple business and plan a route for the closest ones to them. Users will find this helpful for efficiently getting errands completed on lunch breaks, when visiting new cities, and just reducing their carbon footprint.
HopiChest – The app allows kids to log their health history, and it features social media integration and a rewards system that provides motivation for kids to use the app.
Beacon – Beacon is a Windows Phone app that allows you to set beacons in the real world and find them again with your phone using either an overhead map when you're far or augmented reality when you're close.
HearIt – Hearit provides users with the ability to test their hearing and stores that data allowing you not only to test your hearing, but track hearing loss over time.
Ouchie – The Ouchie App is an HTML5 Mobile app that helps find urgent care facilities, based on insurance plan and location to avoid high cost ER visits. Consumers with non-emergency situations may also find optimal care facilities based on their insurance plan and symptoms via camera & voice.
Wellthy – Did you exercise today? Need a friend to help you accomplish your fitness goals? Then Wellthy is for you. Wellthy is an easy health tracker app. Just enter your gender, height, weight, and that's it. Wellthy then provides you recommendations for exercise, diet, and sleep, and helps you achieve a Wellthy (Wellness and Healthy) lifestyle. A professional companion version of Wellthy for Personal Trainers connects you to your Personal Trainer. Personal Trainers can review your fitness activities and provide you additional motivation and support"
Jot – Jot is an Android tablet/pen app that was created with these ideas in mind: Kids might need to practice letters, People like pens, crayons, pencils, even if they are not artists, Folks like to sign their own name, For a warm, fuzzy feeling, you might want to send a hand written note.
Sleepbot – Sleepbot lets users to monitor and compare their own sleep habits with average habits and then make adjustments to improve their sleeping habits.
Doc Pad – This app allows doctors to load x-rays onto their tablet. Allowing them to draw on the image and overlay it on their patient using the tablets built in camera.

Health-At-Last – No Description yet…

GNote – No description yet…

RaviHealth – No description yet…
Jain Labs

– No description yet…

FrontRunner

– No description yet…

Returnly

– No description yet…

High Yields

– No description yet…

Mustang Apps

– No description yet…

PanHealth

– No description yet…

On Click

– No description yet…

PrivaMobile

– No description yet…

DroidHealth

– No description yet…

Healthy Self

– No description yet…

Devfuel

– No description yet…

HealthJump

– No description yet…

Care-O-Line

– No description yet…

Hook Mobile

– No description yet…

PledgeHealth

– No description yet…

Intensify

– No description yet…

CellSoul

– No description yet…

Life Sprint

– No description yet…

Counterless Inc.

– No description yet…

No App Name Provided

– No description yet…
I am still trying to dig out from the flood of email I recieved after the event, so if you haven't heard from me yet, now you know why 🙂
Congrats again to everyone who worked to make the Developer Summit, Mobile App Hackathon and Fast Pitch a smashing success.
---
Share this post