Updated: Jan 23, 2014
Published: Jan 23, 2014
AT&T Mobile App Hackathon – Event Recap – Sundance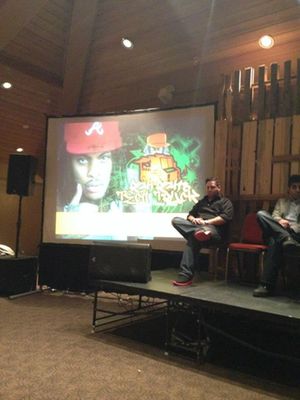 The first ever Sundance Hackathon, launched this past weekend, drew Hollywood and tech together giving them an opportunity to transform ideas into action within three days. It was an awesome experience for both the developers as well as the celebrities that participated. They were able to see, feel, and demonstrate how code is more than lines on a screen – a tool for social change, to feed hungry school kids, to help transform a damaged environment into a thriving one.
Amongst the stars in attendance, Fabien Cousteau, Adrian Grenier, Waka Flocka Flame, Sarah Austin and Alex Ebert were some of the stars that pitched their ideas to developers. Most of these stars, brand new to this experience, felt inspired by the talent and dedication from developers and worked with them through the night to craft the final product. Whether they were holed up in the rooms at the Lodges Deer Valley, or connected virtually, these teams that no one would have thought possible, worked hard through the witching hours. There were some fantastic sparks that ignited during the late night debates, fueled by passion and sleep deprivation. Where is a better place to have these discussions than in the middle of an event that celebrates creativity? Sitting around the toasty fireplace as the wind howled outside didn't hurt, either.
The hackathon was held in conjunction with the Sundance Collective, who also hosted a number of other events that covered venture investing, industry hiring, and future trends. Within three days, the developers had time to hone their ideas, attend panels and network with the stars that rolled through the Hackathon.
Make sure to check out the social feed as well as pictures from the event to see what happened.
Here's what came out of the awesome Sundance Hackathon:
Team MobileKitchen – MobileKitchen is an app as well as a food truck that teaches students how to eat healthy and rewards students with special five star meals for improvement in their studies.
Team SecondGovernment – SecondGovernment is an app that enables people to test out laws in a virtual world. Imagine Second Life meets government!
Team LeadAndPledge – LeadAndPledge is an app that addresses domestic violence by asking people to stand up and speak out with technology.
Team AntiBully – This web app is an easy to install and use Chrome extension social media monitoring app for parents that addresses cyber bullying.
Team Youngstarter – YoungStarter instills the fundamentals of business knowledge to young CEOs to help them successfully and responsibly launch their startups and fundraising efforts.
Team PlantaFish – PlantaFish is a web app that that enables people who care about the environment to connect and share resources to amplify the efforts of group support http://www.plantafish.org.
Team WakaFlocka – The WakaFlocka app is both an app as well as a technology truck that rolls around to different cities and helps kids learn about basic life lessons like opening a bank account. The app is structured so that the children of these underserved communities have an opportunity to interact with the sponsors of the truck and learn about technology in an easy and stress-free environment.
---
Share this post