Updated: Mar 10, 2014
Published: Mar 10, 2014
AT&T Mobile App Hackathon Event Recap: AT&T M2X and Embedded Systems
Over 140 developers and interested people converged on the AT&T Foundry in Plano, Texas on Feb 21 and 22 for a machine-to-machine and embedded systems hackathon, sponsored by AT&T. M2X is AT&T's new cloud-based fully managed data storage service for network connected machine-to-machine (M2M) devices. From trucks and turbines to vending machines and freight containers, M2X enables the devices that power businesses to connect and share valuable data. AT&T's new M2X Data Storage service was showcased at the event and half of the teams presenting projects used the service to great effect.
AT&T architects for the M2X Service presented a $500 award to Chris Rust (an applications engineer) and Josh Talkington (a student majoring in CSE) for their Vineyard Monitor, a device developed to assist farmers in monitoring their crops. Using a RedBoard (an Arduino compatible microcontroller provided by Sparkfun), a Raspberry Pi, and a number of different electronic components, they created a portable sensor unit that can detect useful data for plant growers, such as light levels and temperature. The team utilized M2X and the free client libraries provided with the service and were able to easily capture the data from the remote sensor units and send the data over the Internet directly to M2X for further analysis and action.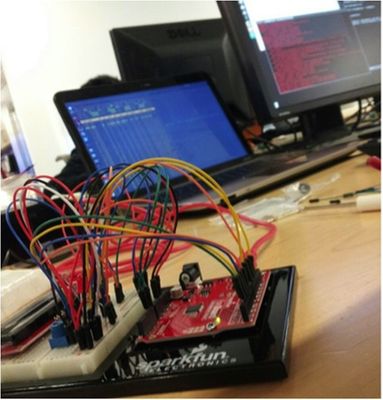 "In true Python style, M2X's Python client library was quick, effective, and easy to use," said Josh Talkington. "It allowed us to quickly adapt the M2X service to the needs of our project. In fact, integrating M2X was the thing we spent the least amount of time on."
Data was shown in real time, leveraging graph and charting options provided my M2X. Using the built-in trigger and notification system integrated in M2X, automatic alerts were configured based on pre-defined conditions, such as high temperature and low ambient light. When a threshold was triggered, a text message was sent, and both a sound was played and the display updated with an alert on the device.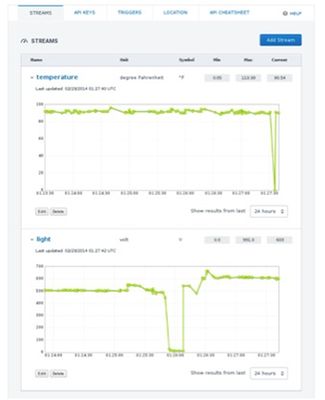 To learn more about M2X, please visit our website and setup a free developer account.
---
Share this post