Updated: Aug 19, 2012
Published: Aug 19, 2012
AT&T Mobile App Hackathon – Denver
The August 17th, Mobile App Hackathon (Denver) was held at the Uncubed coworking facility with the bonus of free parking! All told, the 82+ attendees pumped out 11+ apps with a couple of teams not making to the finish, even with the great ideas that they had.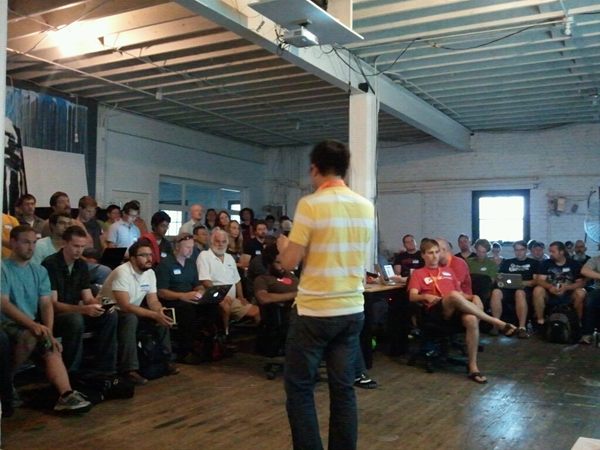 An enormous thanks goes out to FullContact for helping out with the local outreach and delivery of the hackathon. The organizers and sponsors had a great time and enjoyed speaking with all of the awesome developers and jibing on the ideas. We will be back with more hackathons before the end of the year for sure! If you are interested in checking out the pictures from the event, hit this link –> http://www.facebook.com/media/set/?set=a.483748711637934.114049.460699977276141&type=3. Also, please email me dropbox links for any images that you would like me to add to the collection!

One of the most exciting apps at the event was Nomabi, an application that tells you where other developers are around you and if they are open to networking at a local coffee shop while they work. The team delivered a very clean interface as well as pulling together an excellent concept. Another well executed application was Get2Ski who did a great job of utilizing a government data feed of live traffic data to help you get to the ski slopes faster.
However, at the end of the day there could be only one overall winner and the judges decided to award that prize to Contact Peek, an application that shows you more information about the contact you are about to meet. The team designed an excellent interface that delivered on a very concise feature set.

Let's take a closer look at all the stellar applications created:
255 Notes – Sendgrid Prize – An app to take notes in markdown.
Connectology – AT&T API Prize – Connectology allows users to quickly and easily engage in their favorite non-profit organizations, while providing open visibility to discover new ones. Through social media analytics, we match users with non-profits and events catered to their special interests. Non-profits can target new volunteers, receive donations, and access campaign activity all through one app. Our ideal users are non-profits looking for new resources and social media users who are seeking new ways to give back to their community.
Nomabi – 3rd Place Overall Prize – Time based networking. Our app facilities ad-hoc networking and meetups by creating meaningful connections based on location and like interests.
Contact Peek – 1st Place Overall, Fullcontact Prize – You just agreed to meet with the CEO of a company that can make you lots of money. You've never personally met the guy, but the meeting was arranged through email. You want to sound knowledgeable and make a good impression with the CEO, but you don't have much time before the meeting. By using Contact Peek you can quickly learn the relevant background information you need to close the deal.
El Camino – "For conference attendees that come home with hundreds of business cards, entering the business card into your address book is a pain in the ass. OCR makes too many mistakes, I don't have a personal assistant, and I want a solution that works on any device. El Camino addresses this problem, simply email an image of a business card from any device to cards@fullcontact.com. Try it for free, use it at volume for $0.10 per card."
Adventured – 3rd Overall Prize – An app created for people looking for adventures around town and for people to create their own adventure. You can invite people to your adventure and then tell the world about it later.
OpenLaw – Tiggzi 3rd Place Prize – Law today isn't comprehendibleto the common individual and has thus created a disparity between lawmakers and citizens. We propose building a wiki based service to allow crowdsourced editing to put Law into layman's terms. We have also attached the Full Contact information of the representatives proposing the bill in order to connect citizens and lawmakers with respect to the bills they are representing.
Stock Notify – 2nd Place Overall Prize, Alchemy Prize, Tiggzi 2nd Place Prize – Stock Notify is a mobile app that allows the individual stock investor to get a leg up on professional investors. The app analyzes millions of stock related tweets on Twitter & StockTwits in real-time to determine the Tweets are Positive, Negative or Neutral (what we call Stock Sentiment) & More importantly the entire content of any linked web pages
Sales Planr – Tiggzi 1st Place Prize – SalesPlanr helps businesses to better plan and initiate their field sales activities.
Get2Ski – MapQuest Prize – Get2Ski utilizes CO Dept of Transportation Data to get you to Colorado Ski Destinations
Open Perks – Layer7 Prize – Redeeming digital coupons and loyalty rewards at retail is a nightmare for consumers, merchants and application developers, alike. Closing the loop for consumers to redeem their deals at Point of Sale requires too much manual effort, as many POS scanners cannot scan 2D barcodes or QR codes. Open Perks provides an easy process for merchants and developers to close the loop without integrating directly with the thousands of POS software in the market. It is a deal hub for consumers to port all of their couposn and deals from different providers, like GoupOn, Living Social and any other loyalty app to a central mobile application. It then goes through a barcode methodology to interact with the sales reps mobile device and POS laser scanner technology.
---
Share this post