Updated: Apr 15, 2014
Published: Apr 15, 2014
AT&T Mobile App Hackathon – Atlanta – WIT & Home Automation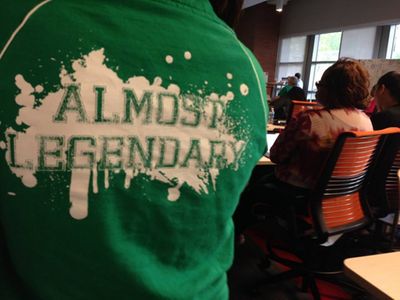 Curiousity & Play.
Exploration of new technologies.
And courage to not only take the time to play, but to voice your opinion on what you believe.
Jennifer Bonnet, who kicked off the hackathon, voiced these topics that we collectively explored this last weekend at the Women In Tech and Home Automation hackathon. She also drove home the point of finding your passion as well as finding customers who surround that passion and creating a profitable venture out of that junction point.
Jennifer also spoke about finding your place within a business where respect is mutual and openness is prevailant. Finding these organizations is difficult, but it's getting easier as there are more events focused on women in tech. Hosting events that bring together like minded individuals on the topic is so critical in fostering the necessary connections and growing the support within the developer community.

To get the hackathon participants situated, Erica Stanley gave a great presentation that covered a wide variety of tools that could help accelerate application development (slides to follow). Additionally, Kylie Stradley (Kylie's deck) encouraged, inspired, and motivated the attendees to keep pushing forward towards their development dreams and to keep learning. Kylie's presentation, entitled "Confidence Gap," really drove this point home about pushing forward. Even more importantly, it spoke to the idea of surrounding yourself with postive people who constantly encourage you to achieve greater heights because yes, you do have it within you.
Some of you have repeatedly asked for the catering menu, so here it is!
Mediterranean Grill – 404.917.1100
Panera Bread – 404.853.3273
Heirloom Market BBQ – 404.314.4849
NaanStop – 404.522.6226
With 95+ participants and 8 presenting teams, there were some great photos as well as social media content. Please find social feed from the event via Twitter & pictures on our Developer Program Facebook page.

Here is a list of the teams:
Team ChowTime – Best Home Automation Prize – Our app streamlines the process of caring for your pets through your mobile device. It is built on the Arduino technology, which pushes notifications to the IBM MQTT server through Wi-Fi shield which in turn publishes the message to an app on your mobile device.
Team Lasso – Best Use of M2X Prize – Lasso is a low cost alternative to help keep track of your most precious assets…your children. Use the Lasso iOS application coupled with a cool wearable device for your child to keep track of your kids and get immediately alerted when they leave the area.
Team Unbounded – The Unbounded app connects volunteers to homebound individuals. The homebound or their caring family members can request services from a trusted network of nearby volunteers. For example, if you have an elderly parent who lives far away and needs to be checked on, needs periodic help with chores, or just wants companionship, Unbounded connects you to volunteers, waiting to assist, with just a few taps.
Team hlpstr – Women Led Prize & MasterCard 1st Place Prize – hlpstr is an application that creates real-time connections with people who need help instantly. The app allows people to connect to local events based on interests and values of the person. It can be customized based on your location and alerts pushed out to you
Team InstaPay – All Women Prize & MasterCard 2nd Place Prize – Geared toward parents and teens, InstaPay is a parenting tool and money manager rolled into one application. It allows parents to assign their children tasks such as household chores. The kids can then view their assigned tasks, and mark them complete when done. The app also allows parents the ability to instantly transfer money to their children via MasterCard's new MoneySend API. Our app provides an easy-to-use interface that closes the gap between parents and teens!
Team HubHub – Hubhub is the first wearable family alert system to provide convenience and peace of mind.
Team Vi-Recep – Trend now: #Virecep / Virtual Mobile Receptionist: Seamless connection and authentication between your bluetooth devices Auto-Connect via mobile to Wi-Fi thereby helping to extend battery life.
---
Share this post