Updated: Oct 02, 2013
Published: Oct 02, 2013
AT&T M2M Hackathon – Dallas Recap
We just closed out a blockbuster event in the Dallas area with over 140+ developers turning out to hack 14 hardware based projects with us! The challenge this time around was figuring out how to create mobile phone driven applications that use the AT&T network to communication with a physical device like an mBed or Arduino.
There were a number of very cool projects were produced with a diverse developer base that included students and even a number of parents that showed up with their kids to check out the hardware! We provided mbed and Ardunio microprocessors along with a nice kit of sensors and additional hardware pieces like LEDs, LED displays and power supplies.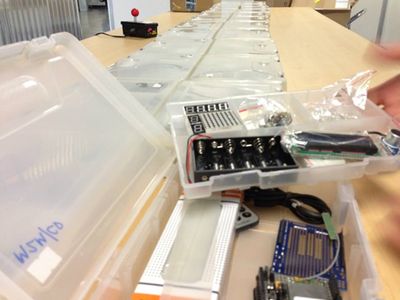 Better yet, the entire event was hosted at the new AT&T M2M facility in Plano, Texas. The facility was beautiful and there was a plethora of electrical engineering related tools/toys include a state of the art Tektronics spectrum analyzer.
For media from the event, you can find pictures here and tweets here.
So without further delay, here is a quick run down of the winning teams:
1st Place – EcoSense

2nd Place – RealService

3rd Place – AeroZone

Best Use of AT&T API – Juvo

Honorable Mention – iHomeGardner

Honorable Mention – AutoLocate
aerozone – technology allows you to control the temperature in individual rooms throughout your home and office at the touch of a button through our easy to use interface. It saves you money by ensuring temperature fluctuations do not affect the maximum possible efficiency of your heating and cooling system through the use of zoning.

Pres3nt – The Pres3nt is an affordable smartphone robot that does not require any third party APIs. It is a h hardware device that anyone can use, regardless of platform, without installing an app. Users simply drop their Apple device in to the approved hardware and connect with each other through Facetime. The digital LEDs on the sending

Juvo – "Juvo" is latin for "help" or "assistance", is your go-to app for emergency situations. Whether you're involved in a car crash, have a flat tire, or just(accidentally) ran over a cyclist, Juvo will automatically call or send an SMS to quickly get you help. There are many possibilities for what sensors could be triggered, and who could be contacted, such as legal counsel, roadside assistance, and emergency assistance.

iHomeGardener – This app provides a simple and easy way to monitor the health of a garden using a moisture sensor, a digital thermometer, and a light sensor. These can provide useful information to your phone and allow for anyone to know when plants need watering or other care. The app displays live data along with a graph showing past information. Also, the app can connect to a weather database and decide whether or not you should water your plants to conserve water. Even if you do not own a garden, the device can be used to measure lawn or foundation health. As long as you have a device and a power supply, gardening becomes much simpler.

Auto Locate – Here is a quick and easy way to find your car when parked in a large, unfamiliar parking lot. You do not need to remember to mark your car's location after parking. Just ping your car when you want to find it.

mBillboard – Instant Billboards Instantly send alert messages and ads through the AT&T Cloud! Just type what you want to say, and watch your message appear instantaneously
on your Billboards."

RealService – Have you ever sat in a restaurant and been irritated with how long it took to be serviced? Well fear no more! RealService enables the restaurant to keep track of what the customers need and attend to them immediately, creating an uninterrupted experience for the customer.

PoolManager – Pools are great improvement opportunity. Every pool has pump and lights. Owners spend thousands of dollars on chemicals and electricity. With embedded devices, you can measure temperature/chemical levels and dynamically control your pool. You can also make owners happy by giving them extra features like online management with temperature profiles and remotely controlled pump/lights on their pool.

A.R.N.O.L.D.S. – This rover will be able to deliver nutritional or libation payloads.

Sprest – This is a smart sprinkler system that helps you conserve water and efficiently maintain your landscaping. Sprest is LESS (Learning Electronic Sprinkler System)

StopRight – StopRight is a new product that will allow us to manage traffic activity and make the roadways safer than ever before by making traffic signals smarter. By using a simple distance sensor recording data over time, we can derive speed of moving objects, location, and traffic density. With some data manipulation one can find out which traffic signals are obeyed/violated, manage traffic in real time, and even anticipate someone running a red light.

EcoSense – Want to keep track of your pet's health and well-being remotely? Use EcoSense! We provide a way to monitor various stats about your pet's living areas (temperature, moisture, light brightness levels). This allows you to observe any issues as they happen and make adjustments where necessary. Check out a prototype at http://m2m.soncodi.com or ask us for the mobile application!

A SpaceTime Identity – This app inlcudes a GPS system that locates a GPS receiver at an absolute location in space and time … provided the location has a clear view of the GPS constellation. The GPS signal is also deliberately degraded, so location information drifts, sometimes by several meters. If sensors and beacons can be located at known positions then we can use them to determine the absolute position of objects anywhere on the face of the planet. Moreover, the sensors and beacons can iteratively use each other to incrementally refine their positions. Associating an object with its position means that an object gains more than its identity – it becomes something that can be related in time and space with other objects. This constitutes an entirely new dimension of information and identity.
---
Share this post