Updated: Apr 10, 2013
Published: Apr 10, 2013
AT&T Innovations Showcase
Last week, AT&T held its annual Innovations Showcase in New York City. The purpose of this event is to feature the latest work from AT&T Labs and other internal groups. The event brings in a lot of press (including many sites I read regularly)—eWeek, Network World, Phone Arena, Engadget, IT World, and more.
Here are some highlights from the event:
This year, the Developer Program used the event to launch our Advertising and In App Messaging from Mobile Number (IMMN) APIs. We created some simple demos that showed how the APIs work. For the Advertising API, we showed how you change parameters and it would return ad—that is, you could change banner size, it would call our platform, and then quickly deliver a new banner ad. IMMN was demonstrated at the event using a sample restaurant reservations app called Dinner Time. The idea is that an app like this using the In App Messaging API allows a user to quickly share the reservation out to one or more people and receive a response back, without ever leaving the app. Messages sent and received are tied to the sender's mobile number so the receiver is likely to know who it came from and the sender never has to leave the application, allowing them to spend more time using other functions of the app if they need to.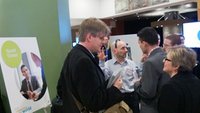 The star of the event was Ruggero Scorcioni, the CEO and Founder of brainYno. He was there talking to folks about his adventures in winning the AT&T Developer Summit Hackathon in January and creating Good Times. At Summit he used the Nicomimi brainwave cat ears we gave away and hacked into them, using the AT&T's Call Management and M2M APIs, to create an app that prevents you from placing call if you are agitated. This is a fascinating new technology area and Ruggero is a really charismatic guy. We were really pleased he was there and I hope his company is very successful.
Another innovation I really enjoyed was the StorEBook Reader. This is an extension of our text-to-speech API. The way it works is that the developer can modulate the voice for different personas or easily add a custom voice. The demo they showed read "Goldilocks and the Three Bears" with different voices for each character. It also highlighted words as it went along which could help kids learn to read. This seems to have many interesting uses.
In addition to the many labs innovations, there were also a couple of demos from the AT&T Innovation Pipeline. This is a program where AT&T employees submit ideas, other employees vote on them, and then the best ideas are funded on a quarterly basis. One I really liked was an EcoMobile app that will help people interested in sustainability. There are so many things that people can do and this is app that helps make it easier. Hopefully it will be available for customers soon.
This was a press-only event, but we will have to see if we can show more of these ideas at other events to the public (perhaps the AT&T Developer Summit—again planned for next January before CES).
---
Share this post