Updated: Jan 29, 2014
Published: Jan 29, 2014
AT&T Drive Studio and Connected Car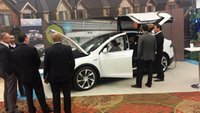 I recently had a chance to check out the Tesla Model X (which is awesome) and was inspired to write a blog on the Connected Car space. For those not familiar with the Model X, it is a full-size cross-over utility vehicle with "falcon-wing" doors (similar to gull-wing—but on hinges). It is an electric car with an estimated range of 260 miles. More than this though, AT&T is providing connectivity for telematics, remote engine diagnostics, and infotainment features on a really cool in-car 17-inch touchscreen (that is really intuitive).
This car and technology package is something I am very excited about—and I think many will feel the same way. To help developers tap into this opportunity, we announced AT&T Drive and AT&T Drive Studio at our Developer Summit. AT&T Drive is a modular, connected car platform and AT&T Drive Studio is a physical lab where developers can test how their solutions run on the platform (in Atlanta, near our Foundry). AT&T Drive is powered by the Ericsson Connected Vehicle Cloud.
AT&T has been working with developers in this space for a little while. We have had some hackathons on this (we gave away a car at our 2013 Developer Summit) and have talked about development. These offers make it much easier for developers to get involved in this space and hopefully other carriers will follow our work with Ericsson and help extend development globally.
What about distribution and monetization? As this space evolves, this will be a challenge but those developers who will be successful will probably be those who get in early before there is a clear path. We know there has to be a path to money for devs to support this and AT&T is working with Amdocs to provide billing and monetization.
What types of applications will succeed? This is always tough to say. Clearly, some existing applications will port over and do well. One of the themes I talked about in my Summit track session was how every new platform over the last 50 years (from PCs to different gaming platforms to smartphones) sparked some new, successful, disruptive applications. Some apps made transitions successfully, but for each successful platform there was more than one application that found some unique idea and did well. That is what is great here from my perspective. We are opening up this platform to let developers come up with great solutions that we cannot even imagine now.
We do not have a lot of details on this yet, but please follow our blog and newsletters as we begin to expose different elements of this.
---
Share this post