Updated: Aug 07, 2014
Published: Aug 07, 2014
AT&T DevLab Series Draws Record Crowds to the IoT Workshop on the AT&T M2X Data Service API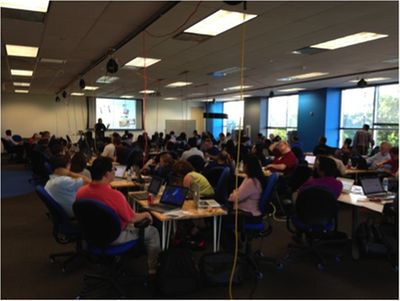 This past June, attendees at the IoT Workshops on the AT&T M2X Data Service API were treated to a spectacular view of Chicago from the 66th floor of the Willis Tower. The M2X Data Service is a cloud-based fully-managed data storage service for network connected machine-to-machine (M2M) devices. While standing-room only crowds greeted participants for the July session in Dallas, which highlighted the immense interest in AT&T's work in the M2M and Internet-of-Things (IoT) space. These DevLab series, presented by the AT&T Developer Program, provide an afternoon (and evening) of learning and hands-on coding utilizing the M2X Data Service and Internet-connected devices.
Attendees of both workshops were provided with an overview of the M2X Service API and how it can be used in the M2M and IoT worlds to easily collect and store time-series data. The lab portion of each session provided the attendees a chance to store and retrieve data (both simulated and via Internet-connected devices), visualize the data, and define triggers (on the incoming data) that were used to interact with a third-party service.
Subject matter experts from the M2X development team showed attendees how simple it is to use the M2X API for sending in data from connected devices, and even from a simple command line call. Part of the workshop was devoted to users configuring a Freescale mbed board (with 3G connectivity), collect accelerometer data from an onboard sensor, and then send those readings directly to M2X over the cellular network. Individuals also learned how to use the M2X Developer Portal to monitor and visualize data in real time as it streams into the service. At the end of the day, all attendees left with their own personal M2X Data Service account, and an expanded understanding of how AT&T is helping customers build and develop solutions for M2M verticals and the IoT.
Are you in the San Francisco area and want to learn more about the AT&T M2X Data Service API and AT&T's strategy for the IoT and M2M space? Then join us on August 21, 2014, for one of two DevLab workshops presented by the AT&T Developer Program. We will be offering afternoon and evening sessions at the Mission Bay Conference Center at UCSF.
You can find more details about the session and register through these links:
Afternoon Session: 12:00PM to 4:00PM
Evening Session: 5:30PM to 9:30PM
---
Share this post