Updated: Nov 05, 2013
Published: Nov 05, 2013
AT&T Demo's ARO At Samsung Developer Conference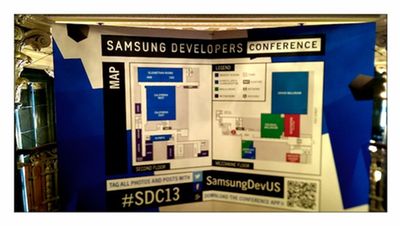 AT&T was invited to speak at last week's Samsung Developer Conference. On Day 2, we gave a talk about Application Optimization and our ARO tool. There was a good response to our session and the audience was dedicated and ready to hear about ARO.
We shared how ARO helps optimize apps for any platform and mobile network and explained how those improvements directly impact user demands for higher speed, reduced battery life, and efficient data usage. We also emphasized how performance improvements affect operating costs for developers.
The demo of ARO took sample traces and showed the results against 25 best practices. Each result linked back to the ARO website where developers could find additional documentation and further optimization tips.
This was the first ever developer conference by Samsung and it was a tremendous success. The 1,000+ attendees far exceeded the company's goal for the conference. While you could tell the higher numbers strained a bit of the meeting logistics, the majority of attendees were excited and satisfied with the event.
It's worthwhile to note the strong support from Samsung for value add services on top of its range of smartphones, tablets, and accessories. The company announced several new SDK's; including Smart TV, Multiscreen Gaming, Secure Enterprise (KNOX SDK), and AdHub. Samsung also released a revamped Mobile SDK with support for S-pen and other gesture controls. Each paid attendee also received a special treat – a Samsung Note tablet.
Check out the Samsung event highlights and keynote videos to see more about the event. If you have questions about the ARO tool, read the AT&T ARO release notes or leave a comment below.
---
Share this post