Updated: Apr 15, 2014
Published: Apr 15, 2014
AT&T Bootstrap Week is back! Join us for a week of free technical sessions April 21-24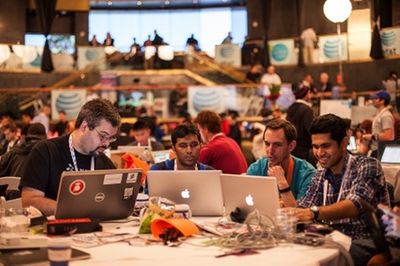 Register now to attend the AT&T Bootstrap Week sessions April 21-24.
AT&T Bootstrap Week delivers live, technical sessions that teach you the basics to rapidly build mobile applications, introduce you to new cutting edge technologies and assist you in debugging your code. Over a four day period these one-hour live online sessions provide you with the assistance for new technology setup that could otherwise take the better part of a weekend to fully understand and setup.
This series is designed specifically for developers or people interested in learning more about application development. With industry experts from Appery.io, Appcelerator and Intel, just to name a few, we have a wide range of topics that appeal to app developers of all levels of experience.
Each session takes less than an hour and will provide you with valuable technical training from a different industry expert. You will also have the opportunity to ask them questions via instant message, in real time. You can register for the entire week of sessions or any combination of individual sessions for free!
April Bootstrap Week Schedule:
April 21 – 11:00-12pm PST
Is Your Mobile App Up to Speed? The Art of Mobile Performance
April 22 – 11:00-12pm PST
Connect Your M2M or IoT device to the AT&T M2X Data Service
April 22 – 1:00-2pm PST
A New Spin on Social Sharing with the AT&T Text Button
April 23 – 11:00-12pm PST
Build a Complete Mobile App with AT&T APIs in Appery.io
April 23 – 1:00-2pm PST
Debugging an HTML5 Hybrid Mobile App – Could anything be easier!?
April 24 – 11:00-12pm PST
Working with the FatFractal Datagraph Backend for Mobile and Webapps
April 24 – 3:00-4pm PST
Native Mobile Apps, Backend and Middleware using Titanium, ACS and NodeACS
---
Share this post