Updated: Jun 12, 2013
Published: Jun 12, 2013
AT&T at IBM Innovate 2013 – Recap!
Peter Rembiszewski, AT&T Developer Realization Dev Tools Lead, attended the IBM Innovate Conference down in Orlando last week:
Given the opportunity to talk to developers, I would travel almost anywhere, especially sunny Orlando for IBM Innovate. Coupled with the excitement of getting to listen to such computing legends as the Woz, braving tropical storms, and being able to bring the AT&T Application Resource Optimizer (ARO) to the broad range of Rational tools, I could not pass it up.
I dusted off my luggage last week and took the show on the road with the rest of the AT&T ARO team. We travelled diagonally across the country down to Orlando to participate with our business partners, IBM, in the Innovate conference held at Disney World. Our messaging around ARO dovetailed nicely with development practices such as Lean, Agile and DevOps. IBM has been enabling these practices through their Rational tool chain with a new target towards mobile development, and we knew ARO was a must have tool for any mobile developer. It made perfect sense that ARO should be used with Rational Team Concert and Rational Quality Manager to manage tests and defects against mobile applications.
After explaining ARO and what it does for mobile software, we are always asked, Who should use ARO? and When should ARO be used? These are very simple questions to answer.
What?
ARO is a diagnostic tool that helps developers and testers create apps that conserve battery life, load pages faster, and consume network resources in a smarter way, which improves the customer experience. As a result, this is a win, win, win solution for developers and testers, customers, and carriers.
Who?
Anyone in the mobile business should be using ARO or have your teams using ARO to ensure that their mobile software meets the unique needs of the mobile environment.
When?
ARO and its development practices should be used in all phases of any software lifecycle, requirements, design, dev, test, and deployment.
Where?
ARO is free and downloadable from http://developer.att.com/ARO and the source is available from https://github.com/attdevsupport/aro.
The ARO team has always followed the mantra of making ARO easy to use. That is why we chose to make it free and released source code. By integrating ARO into Rational, developers and testers will be able to use ARO in their day to day tasks with familiar tools for tracking tasks, issues and work items. The result is a pairing of technical detail along with traceability throughout the development lifecycle.
Back to the show:
Prior to the show, IBM hosted the Open Lifecycle Summit. This workshop discussed the push for open standards such as Open Services for Lifecycle Communication (OSLC), a set of open specifications that allow tools such as AT&T ARO to easily integrate into Rational.
The show started out with an 8am Keynote both days, with a band popping out from behind the stage on a movable platform playing contemporary hits. I was honestly surprised at first, until I realized that even though my body thought it was 5am, I was wide awake. A giant, living, alarm clock, without a snooze bar! The two days featured talks with a wide variety of industry speakers, such as Steve Wozniak, and a wide array of IBM experts.
Along with the wide array of workshops, labs, and sessions showing a wide portfolio of development tools, application profiles, cloud offerings, and development tools, there was a major focus on mobile testing and development. AT&T's ARO Marketing Director, Balsu Thandu, cohosted a session on the Challenges of Mobile Application Testing with IBM's Charles Rankin and Leigh Williamson, really getting into detail on the many issues that mobile development shops face when developing for the mobile world.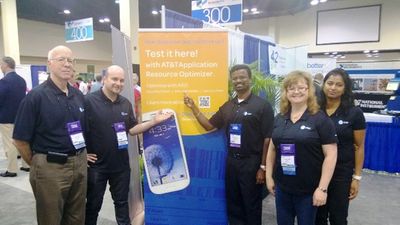 All in all, the show resonated with a very positive and progressive energy that I enjoyed being part of, and I appreciate having such a hardworking and professional team (the ARO product team) and a dedicated partner like IBM to make the ARO message such a success.
Pictures from the event can be found on Facebook. If you were at IBM Innovate, comment below and let us know your favorite event highlights.
---
Share this post