Updated: Jun 05, 2013
Published: Jun 05, 2013
AT&T @AnDevCon 2013
Lisa Burks, one of AT&T Developer Program team members, was at AnDevCon last week. Here's a recap of her experience.
The AT&T Developer Program was in full force at AnDevCon 2013 last week at the Westin Boston Waterfront in South Boston. AnDevCon, as the conference organizers describe it, is the "biggest, most info-packed, most practical Android conference in the world. Choose from more than 75 app development classes and in-depth Android development tutorials designed to take your Android development skills to the next level!"
AT&T was busy promoting our Application Resource Optimizer (ARO) tool, along with the AT&T API Platform, to the approximately 800 developers in attendance. Should you put AnDevCon on your calendar for next year? Read on…
This was the first Boston-version of AnDevCon. If you're interested in attending the west coast version of AnDevCon, the event takes place November 12-15th in San Francisco.
Conference Overview
Technical Sessions: AnDevCon is renowned for the level of technical training sessions for Android developers. The conference organizers break down each session to either an Overview, Intermediate, or Advanced technical level as well as whether the session is targeting developers or a business audience, which really helps the attendees determine what sessions are most relevant to their background. Some of the more interesting sessions I attended included:
Android Development Boot Camp
Developer Tools Essentials
Making Sticky Social Apps
Test Your Mobile App's Performance with Application Resource Optimizer
AnDevCon featured over 75 app development classes over 4 days, catering to all skill levels. Various presentations from the event will be made available on the conference website in the coming days. In addition to technical sessions, AnDevCon held a Lightning Talk session, where several third-party Android solution providers pitched their wares in 5-minute increments – a great way to get the lowdown from several companies in a short period of time.
Keynotes: AnDevCon brought in numerous representatives from Facebook, Tumblr, Qualcomm, and Twitter to keynote throughout the week.
Book Signings: Almost more popular than the free beer served during the networking/cocktail hour was the book signings (at least the lines to meet the authors were longer than the lines for IPAs) – Only at a developer conference!
Exhibit Hall: There were quite a few exhibitors including Qualcomm, Paypal, Perfecto Mobile, Crittercism, and Blackberry to name a few. AT&T's Application Resource Optimizer booth was a hit! It's hard to beat offering a "free, open-source developer tool." We visited with over 200 developers to tell them about ARO and where to get it. We also tested 15 apps with BackCountry Navigator winning the honors of being the most efficient app tested for the day! As always, visit developer.att.com/ARO for in depth information about how to make your apps run faster while using less battery!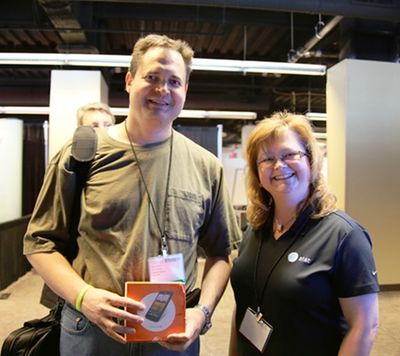 For more photos of the event check our our Facebook page.
---
Share this post