Updated: Dec 08, 2014
Published: Dec 08, 2014
AT&T Advertising API Now Featuring Real-Time Bidding for Developers Publishing In-App Ads
We're excited to announce that the AT&T Advertising API now includes Real-Time Bidding (RTB) across multiple ad sources. As a result, developers using the API will see a wider range of inventory by having access to over 100 Demand Side Platforms and Ad Networks. This means you can receive the highest possible eCPM for your mobile inventory in live auctions, which should result in better monetization of your apps.
What is Real-Time Bidding (RTB)?
RTB automates the process of buying and selling ads in an online auction. It is a means for letting advertisers bid to serve an ad to a particular person on an impression by impression basis. This bidding is performed live, almost like stocks are bought and sold. The bidding process is typically completed in less than 150ms. Of course, the more that advertisers know about the person receiving the ad impression, the higher they will bid to deliver an ad of interest to that person.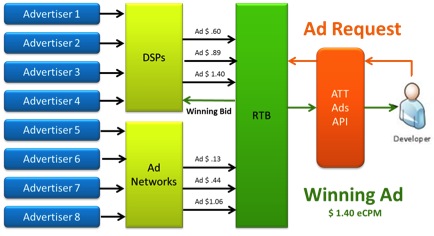 Helping Advertisers Match Ads to a User's Interest
If you are currently using the AT&T Advertising API, you need do nothing different for your ad requests to be included in Real-Time Bidding. Utilizing parameters such as a unique UDID for each app user, location, and category in your API request will allow advertisers to properly target ads to your users and increase eCPM even more. Check out last month's blog "Focusing In-App Advertising to Help Maximize Ad Revenue" for details and examples of how to use those parameters. Your ad requests will still be considered for bid without these parameters, but you should expect a lower eCPM in those instances.
Mobile RTB Sales / eCPM Growth
Mobile advertising is the fasting growing advertising segment with over $11.01B in spend forecasted for 2015. According to the study by eMarketer (Oct. 2014), RTB ads will be a majority of that growth at over 56%. When you couple that with a May 2014 study from Turn highlighting that RTB drove an 8% eCPM increase year over year (Q1 2013 v. Q1 2014), you can see that RTB is growing rapidly, and improving the monetization experience for the developer.
Through the use of RTB, the AT&T Advertising API is able to provide a deeper ad inventory with the potential advantage of higher eCPM to the developer. To get started, visit the AT&T Advertising API and start monetizing your apps today.
---
Share this post