Updated: Mar 26, 2014
Published: Mar 26, 2014
ARO was a hit at IWPC Workshop
By Bill Weir, Project/Program Manager, AT&T Business, Network & Corporate SOLS IT
The AT&T Application Resource Optimizer (ARO) was a big hit at the IWPC workshop held in Sunnyvale, California, on March 19th. IWPC is a consortium of companies in the wireless technology industry, primarily related to wireless carriers and their suppliers. They organize about a dozen technical workshops throughout the year on topics suggested by members and others in the industry.
ARO is a Perfect Fit
Titled "Optimizing Advanced Smartphone and Tablet Architectures," the workshop was focused on innovations that deliver power-efficient solutions for wireless networks. ARO fits that definition perfectly.
ARO is a free diagnostic tool that can help developers make their apps more energy efficient and more responsive.
My presentation on ARO was titled "Tools and Best Practices to Help Improve Mobile Application Battery Usage." It was all about the
ARO tool
and the
mobile developer best practices
available on our website.
My presentation was a little unusual for IWPC because it was about software and mobile apps. It's a great group of people, with a very deep understanding of wireless technology and radio spectrum. Since most members are more focused on hardware this was the first exposure many had to ARO, but as radio engineers they immediately grasped ARO's value.
I took the photo below of my view from the audience during day one of the workshop.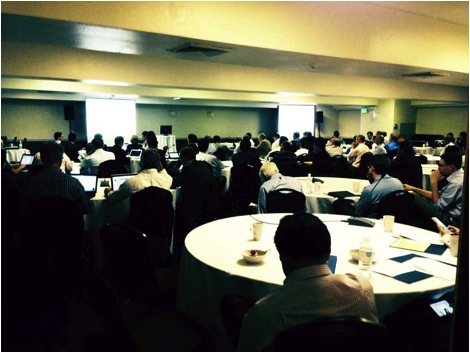 When I got onstage I asked the audience to wave – Say Hi!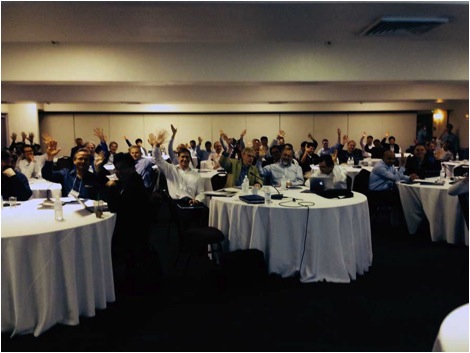 IWPC Workshop Recap
The IWPC mission is to "facilitate global knowledge-capital collaboration, delivering unfiltered real time insight into vital technology, market and ecosystem evolution. Our technology-neutral Community provides leadership to identify new markets, products & service opportunities; illuminate potential supply chain gaps; network with first-hand knowledge experts, for ALL things wireless."
The talks at last week's workshop were designed around three areas:
Explore innovative solutions which improve power efficiency
Identifying requirements for multi-mode, multi-band devices
Assess the impact of VoLTE, RCS and always-connected use-cases
The first bullet point is where ARO fit in. This workshop was sponsored by China Mobile, the largest carrier in the world; with more than 775 million subscribers they can provide reception to about 97% of the Chinese population. Many IWPC members are hoping to partner with China Mobile, so they were eager to hear about their plans and there was a high turnout. Members were also offered the opportunity to meet one-on-one with representatives from China Mobile.
Each day there was a wrap-up panel that I participated in both days of the event. Below I am sitting third from the left, with representatives from China Mobile and Sprint to my right and, to my left, Canadian carriers Videotron, Bell Mobility and Telus Mobility.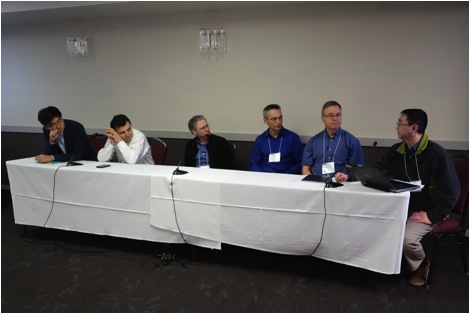 IWPC member companies include Samsung, LG, Nokia, Sony, IBM, QUALCOMM,, Alcatel-Lucent, Ericsson, Juniper Cisco, Intel, Fairchild Semiconductor, ARM, Texas Instruments, TDK and many more. Participating Network Operators include AT&T, Sprint, Verizon, T-Mobile/ Deutsche Telekom, U.S. Cellular, Vodaphone, China Mobile, Rodgers Wireless, Videotron, Bell Mobility Telus Mobility, and more.
It's always a pleasure to share information about ARO and our recommended best practices. I truly believe they make developers lives easier, make mobile apps more efficient, and help make wireless networks faster.
You can learn more about ARO and the mobile developer best practices on the AT&T Developer website. You can learn more about IWPC on their site.
---
Share this post