Updated: Feb 26, 2013
Published: Feb 26, 2013
ARO Earns Top Honors At MWC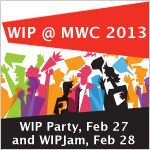 The AT&T Application Resource Optimizer (ARO) earned top honors at Mobile World Congress in Barcelona, winning the Smartphone Application Challenge at GSMA's 18th annual Global Mobile Awards. If you're attending MWC, be sure to stop by and see ARO in action at our expert booth this Thursday at WIPJam and see how your app measures up!
Not able to jet off to Barcelona this week but want some pointers on how to turbocharge your app? You can reduce latency and improve customer satisfaction by following these easy tips:
Cache! Reading from the cache is 95% faster than downloading it again. Don't forget to turn it on!
One Size Doesn't Fit All. Shrink the images server-side. Downloading a big file and resizing on the device adds latency.
Compress it! Use lossless compression to manage images and gzip text files.
Be Mindful of the Pipe. Openmultiple connections to thread data to get content to your users faster at a higher throughput.
Prefetch Content. Download frequently used content before your customers request it.
Avoid Redirects. Redirects can add up to two seconds per request.
With ARO you can pinpoint performance issues and make your app faster while using less battery. Read more tips on how to optimize your app and download ARO today.
---
Share this post