Updated: Jan 19, 2015
Published: Jan 19, 2015
ARO 4.0 and Mobile App Performance Takes Off at Summit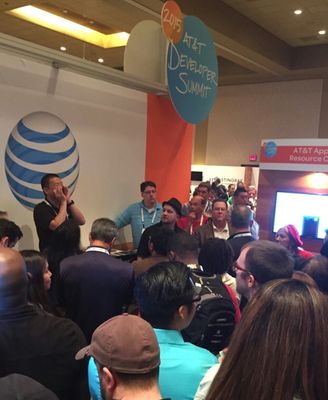 If you missed the 2015 AT&T Developer Summit earlier this month, you missed a lot of exciting news and events around the AT&T Application Resource Optimizer (ARO). From talks to book signings, from drones to a small mob, this year's Summit was a ground breaking one for ARO.
ARO 4.0 no longer requires rooting!
ARO 4.0 was released in December and for the very first time, collecting traces on Android apps doesn't require rooting your device. This small but significant feature makes it possible for developers and testers to analyze their app's behavior on the same stock devices that their customers would use without the hassle of rooting. See Tiffany Kinkade's blog for more details and of course, check out the 4.0 release notes.
Doug Sillars holds a book signing for his new O'Reilly book: "High Performance Android Apps"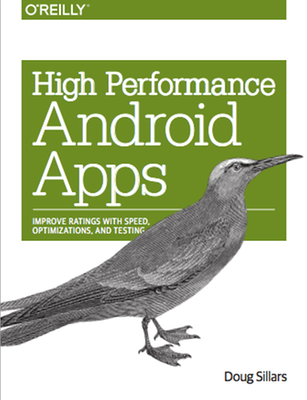 At Summit, Doug Sillars held his first book signing. While Doug has been a prolific speaker and writer on Android App Performance, on Mobile Best Practices and on AT&T ARO, this will be his first book. In his first publication, he gathers all his learnings on creating Android Apps over the last 3+ years of working with app developers optimizing their apps. Through a special arrangement with O'Reilly, we had printed copies of an early release of his new book. While the book was not complete in this limited, early edition, that didn't keep a devoted fan base from lining up ahead of time to speak with Doug and get signed copies. For those who missed out, you can still buy your own "Raw and Unedited" version from O'Reilly today.
"Make Your App Fly Raffle" gives away 5 Parrot Drones and causes a small riot at Summit!
During the conference, we promoted all the ARO events mentioned earlier with a raffle where we gave participants an entry for each ARO activity. The more one learned about ARO and about Mobile Best Practices, the higher their chances of winning a prize. Get your badge scanned, get a ticket. Watch an ARO demo, get a ticket. Go to the ARO presentation, get a ticket. You get the idea.
Thanks to our co-sponsors at Open Path Products and at K-Force, we also had some pretty compelling prizes – 5 Parrot AR Drone 2.0 Power Editions and 12 PowerUp 3.0 Smartphone Controlled Paper Airplanes. With all the ARO events and these generous prizes, we issued almost 700 tickets by the end of the day. Needless to say, at the end of the day, we had a pretty anxious crowd when we started calling out numbers and handing out prizes. While we didn't actually have a riot, the crowd took up half of the exhibition hall and we had several barkers just so everyone could hear the numbers. Honestly, there were moments where the crowd was getting a little too excited.
Congrats to all the prize winners and thanks to everyone who participated. We look forward to seeing y'all next year. Meanwhile, keep optimizing your apps for mobile by applying Mobile Best Practices and ARO.
---
Share this post