Updated: Nov 26, 2012
Published: Nov 26, 2012
Are you taking full advantage of the holiday shopping craze?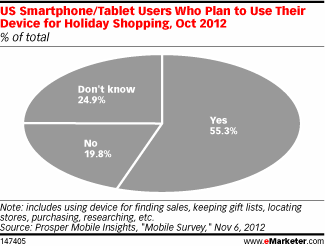 As smartphones adoption rates continue to rise, it's fascinating to look at how their use changes throughout the year. With the holiday shopping season upon us, we're depending on smartphones more than ever to find stores, compare products and prices, and alert us of deals. According to a recent survey by eMarketer, 55% of smartphone users planned to use their devices for holiday shopping and another 24% said they didn't know yet. These statistics represent a big opportunity for app developers.
Creating apps that help consumers around the holidays can be big business in terms of revenue from app downloads and ads. Depending on what survey you look at you'll likely find that somewhere between half and four-fifths of smartphone owners plan to use their devices as shopping tools. A survey from Google and Ipsos suggests that among those who use a smartphone regularly, 45% will compare prices, 44% will find a nearby store based on their location, 39% will look for coupons, and 34% will read reviews.
This isn't the only opportunity for app developers though. Developers currently charging for their app(s) have a unique opportunity around the holidays and especially the week after Christmas to take advantage of increased device sales. As device sales increase, so does traffic to app stores. Offering discounted apps leading up to the holidays is a strategy used by many app developers to increase downloads and move up the charts.
Apptopia predicts that download volume will peak on Christmas day with 410 million total downloads and by the end of December the total number of app downloads is expected to hit 6.5 billion, or 4,680 downloads for each available title. Overall, Apptopia estimates that during the week of December 25-31 app sales will total $2.4 billion.
So how can you capture and convert this increase in traffic into sales? Fast Company recently posted some suggestions on how developers can make the most out of this holiday season; here are our top 5:
Promote like crazy
Submit your next build as soon as possible
Offer new virtual goods
Do keyword optimization and search term research
Diversify your portfolio
Head over to FastCompany for the full list of 10 things smart developers do to prepare.
Are you prepared for this holiday season? If so, what are you doing to capture additional sales and other forms of revenue around the holidays?
---
Share this post