Updated: Oct 08, 2016
Published: Jun 08, 2015
Are We at the Tipping Point of WebRTC Adoption?
Currently, if you want to place an audio or video call from your computer to one of your contacts, you would have to use one of numerous third-party applications or plugins to connect. Possibly, you would have to have multiple applications and plugins running on your computer and browser at any one time. That may be changing soon.
What Is WebRTC?
WebRTC, short for Web Real Time Communications, is an open-source W3C standard API and is becoming one of the most disruptive communication technologies in years by enabling voice and video calling between browsers without the use of plugins. Due to the increasing availability of WebRTC, the idea of limiting communications through a specific hardware device or application will soon be in the past. Users can now make an audio or video call by simply clicking a button in a browser.
The WebRTC opportunity has the potential to infiltrate many different verticals and we are already seeing applications built for video conferencing, contact centers, social networking, healthcare, and education. These apps are just the beginning because (see the infographic) WebRTC is at the tipping point of becoming the next big communications technology in our lives.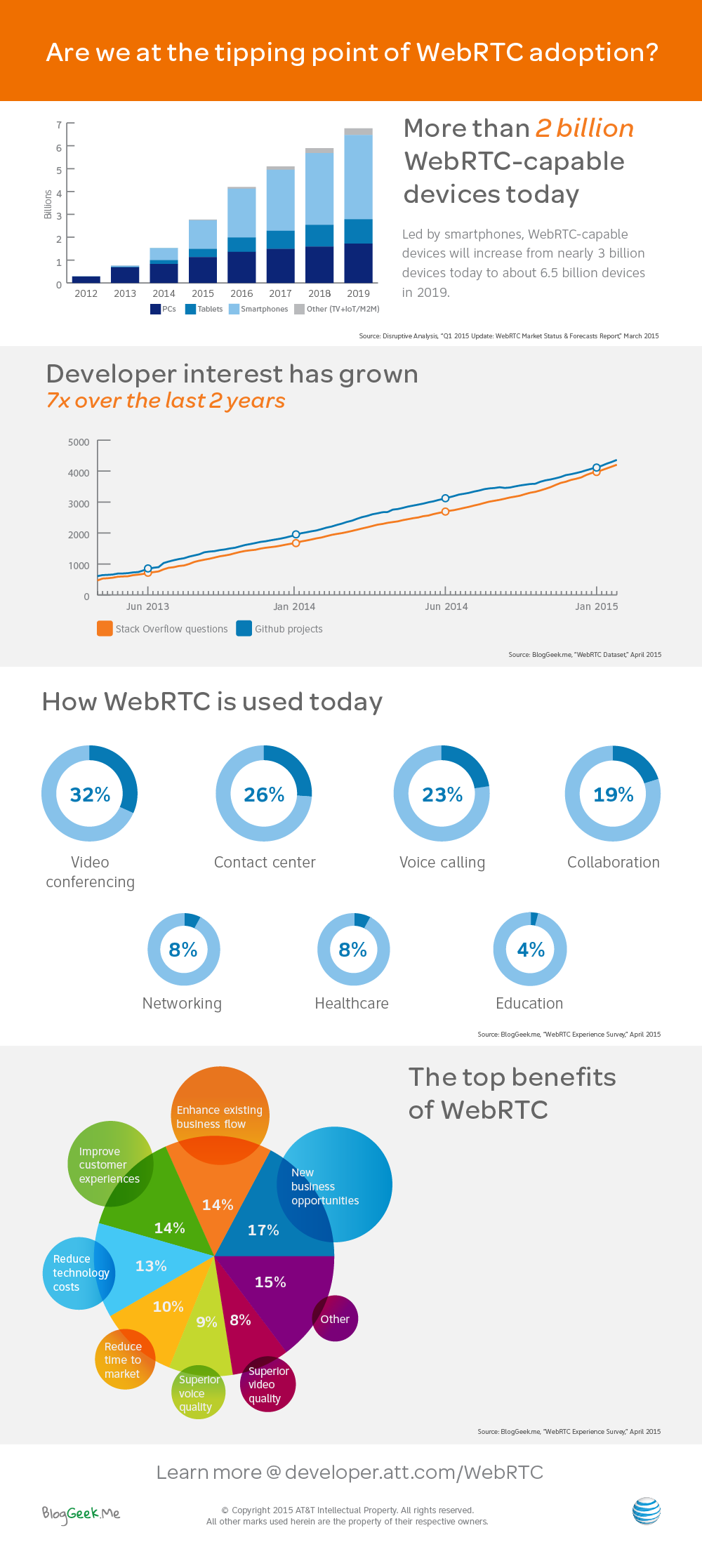 Why Use WebRTC?
Designed as an open source project, the inherit features of WebRTC have proved flexible in benefiting companies (see the infographic). While many of the benefits are expected for a new communication technology, such as new business opportunities, superior voice and video quality, and enhancing current communications capabilities, WebRTC has also shown to have other tangible benefits.
For decades, the way businesses communicate with their customers has changed very little. Typically, communication was done through call centers – with varying degrees of success – one customer at a time. While companies have tried to offload much of this customer service to the web in favor of efficiency, customers lost the one-on-one contact companies focused on previously. WebRTC has demonstrated early on that it can bridge these two communication methods to enhance customer experiences.
Many of the early adopting companies have focused on complementing current communications capabilities to enhance their customer experiences in the call centers. As we demonstrated at the 2015 AT&T Developer Conference with Plantronics, enhancing when the WebRTC call connects, the system has already retrieved customer information. This can create an efficient process for the call center, while simultaneously providing a custom, personalized experience for the customer.
Like the call center, in which a customer only needs a telephone and a phone number to call, WebRTC is promising to eliminate the communication compatibility concerns that come from proprietary third-party software and plugins. To use WebRTC, the user simply needs to use one of the available WebRTC-capable browsers and click a button.
Device Growth and Outlook
Since the initial release of the WebRTC API by Google in May 2011, the project has grown for both WebRTC support and interest. According to Dean Bubley's Disruptive Analysis, nearly three billion devices are WebRTC-capable today, with an estimate of about 6.5 billion devices supporting WebRTC by 2019. Today, support is lead through desktop browser usage, with Google Chrome, Mozilla Firefox, and Opera accounting for more that 60 percent of total browser usage. In the years to come, growth will be increasing on the availability of mobile browser-support on smartphones.
The other area of interesting growth predicted in the next three years for WebRTC is within the Internet of Things (IoT) space. By definition, IoT connects things to the web to interact with them in real time. So, it makes sense that IoT combined with WebRTC can create a promising future with real-time communications.
For those curious about WebRTC and want to learn more, please visit Tsahi Levent-Levi's website at bloggeek.me, who helped us create the infographic featured in this post. Another great way to keep up to date with WebRTC is to sign up for the WebRTC Weekly and AT&T Developer Program newsletter, if you are not already subscribed.
If you have thoughts on how WebRTC will factor into the future of mobile and IoT, we would love to see them below in the comments section.
---
Share this post