Updated: Feb 11, 2014
Published: Feb 11, 2014
Apps World in San Francisco – Everything an App Developer Needs, Including Wozniak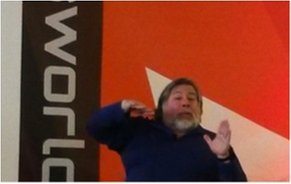 Last week, over 8,000 mobile developers and marketers gathered for two days in San Francisco at Apps World. With as many as 11 tracks of technical and non-technical content, regardless of your role, there were informative talks for everyone. There were five free tracks:
Developer World
Droid World
Gaming World
Enterprise World
Tech World
For an additional charge, one could attend workshops on the following:
API Strategies
Mobile Strategy & Marketing
Mobile Payments & NFC
HTML5
Retail Apps & MPOS
TV & Multi-Screen Apps
On the exhibition floor, there were 200 exhibitors along with offerings to help you with APIs, developer programs, development tools, performance monitoring, testing tools, ad networks and other methods of monetization. Some notable names included IBM, Intel, LG, Dolby, HP, and Roku (yes, they have an API). Additionally, there were dozens of indie developers showing off their latest apps and games.
I really enjoyed the layout of Apps World compared to most other tradeshows. The free tracks were intermixed with the exhibitors, so this allowed me to jump between presentations more freely and to visit booths between talks. With so many talks from which to choose, I was able to preview a talk without committing myself or disrupting the talk when I exited.
The highlight of the conference was Steve Wozniak's interview with Wired on the first morning. While the talk did start an hour late, the overflowing audience patiently waited, and he was definitely worth the wait.
His passion for technology and how it can affect our lives was contagious. He spoke about his personal motivation and how it wasn't about fame and fortune. As an example, he admitted that the true motivation for driving himself to create support for 3.5-inch floppy drives was a trip to CES in Las Vegas.
Finally, he spoke fondly of his volunteer work teaching computer programming at the public schools. I found his intentions and actions very admirable. He volunteers and does so while avoiding the spotlight. There are no press or cameras – nothing to distract from their learning. (Check out further interesting details of Wozniak's interview here).
Between the panels, the presentations, and the apps-related exhibitors, I found the show to be productive (had some business meetings), educational (talks and exhibitors), and even entertaining (Woz). I would strongly recommend Apps World 2015 for all mobile app developers and marketers who are interested in learning more about building, testing, monitoring, and of course, making money with their apps.
– John Hsia, Senior Product Marketing Manager
---
Share this post