Updated: Oct 12, 2012
Published: Oct 12, 2012
App Store Reviews and Customer Engagement
I recently read an interesting article from TechCrunch covering the Russian app studio and data analysis firm Empatika that explored application store reviews and ratings. This is the first study like that I have heard of—which is surprising given the impact that reviews may have on the success of an application.
Some clear takeaways from the study:
Sometimes users rank an app high even if they wrote tough, negative comments. Few users gave low star ratings (they said five percent) maybe because users are aware that low rankings can kill an app. Perhaps the users liked the idea of the app but just wanted it to work better.
If someone takes the time to share feedback, there are probably several others that saw something similar and did not bother to write (and perhaps instead, just deleted the app). Devs should pay close attention to comments and ideally, make the fixes that users are asking for. Depending on your monetization model, this can be important to keep users busy and engaged.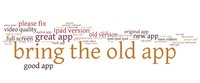 The study demonstrated word clouds from reviews of some top apps. Since analysis of reviews can be a challenge this seems like a simple, less brutal way to see the sentiment of most users (I was not surprised to see the upfront comment "bring the old app" from the YouTube app word cloud).
Devs should solicit feedback once users have spent a certain amount of time in the app. Rather than encouraging review after brief usage, maybe build in a set a reminder for later. (Another piece of advice here could be to employ other feedback tools. One company that I have looked at and can recommend is Crittercism. Appsfire also has tool you can use).
Some recommendations to build customer engagement:
When you think about application success, remember to not just depend on reviews. There are several apps with high reviews that never take off. Think about how to make your apps viral (Instagram is an obvious example of success here). Many apps are sold based on recommendations of friends. This is the same reason those gaming platforms like Unity and Gree are so useful for developers.
From an AT&T API perspective, devs should also consider our In App Messaging from Mobile Number API (currently in beta). This is different than SMS or normal push messaging. For example, say you want one user to recommend your app and send recommendation to a different user's SMS inbox. If you use this API, you can have it appear like the message came from the initial user rather than from the application—so it is much more likely to be opened without concerns about it being spam. If you have not checked this out, please do.
Ending on a personal note:
Everyone that knows me is aware I watch a lot of television. Some good new shows I am watching are Revolution (I hope the explanation for no power is a good one), Elementary (yes, there are many similar shows, but first episodes were good), and Animal Practice (that monkey is smarter than many people). Also, in terms of returning shows, both Sons of Anarchy and Homeland are off to great starts.
---
Share this post