Updated: Feb 21, 2014
Published: Feb 21, 2014
App Marketing: 5 Tips to Enhance App Discoverability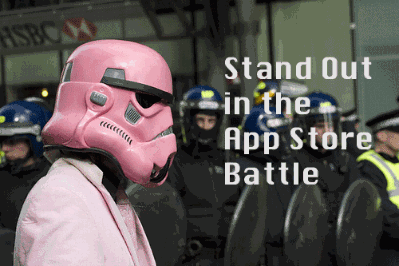 We love all the great apps that come from hackathons. We know how fun it can be to build an app, but what about getting people to download and use it? With over 2 million apps already in a crowded marketplace, how do you get exposure for your app? There are plenty of things you can do on your own to help get your app noticed and much of it can be done on a shoestring budget. Check out five things you can do to help get your app discovered.
1. Beta Buzz: Build Excitement and Get Great Feedback
Beta testing is an essential part to the app building process. Did you also know it's a great way to build some buzz about your app? Getting people (not just friends and fellow developers) involved in testing your app creates more exposure for your app. People who help test the app will be more invested in downloading it when it's live and telling friends, coworkers, and family about the app. Consider reaching out to college students and people who would be interested in using the app. You can help recruit them by offering a $20 gift card to perform the testing and report feedback.
A bonus of this tactic is that your app can be tested on more platforms – especially if it's a mobile app. Not many of us have access to an arsenal of mobile devices running different versions of a particular OS. By inviting more people to do beta testing, you'll be able to get much more feedback, which is imperative to the success of an app. The info you receive and buzz you create will be invaluable to the ultimate success of your app.
2. Garner Reviews to Help Spread the Word
It's true; not everyone can hire a PR firm to help with an app launch. But there's plenty you can do to help get your app exposure and even reviewed by a reputable outlet when it's ready for primetime. Just start the legwork now, by building a review list. Create a list of sites that review apps like the one you've created and be sure to include popular app review sites such as TechRadar, AppAdvice, Boy Genius Report (BGR), and ZDNet and include the names of the reviewers who typically review your app category. When the app is ready for review, so is your outreach list. Send an email to the people on the list with a compelling subject line (you want them to open the email, after all) and a note about why your app is different or what problem it solves that similar apps do not, a link to the app, a relevant website, and a link to where they can get screenshots of the app.
It also helps to follow reviewers on Twitter. Perhaps something will appear in their feed that is relevant to what you do. That's a good opportunity to reach out to them and start a dialogue. When the app is ready for review, send them a tweet offering a review sample. Since there has already been some correspondence on Twitter, the app is more likely to be on their radar for possible review.
One last note about reviews: never pay for one. Reputable online sites and bloggers will not ask for payment for a review.
3. App Store Optimization (ASO): Title and Describe Your App Correctly
So your app made it into an app store. Congrats! With so many apps already in the store how do you make sure that people can find your app? While there is a ton of app discovery apps available, most people find apps by searching the app store or word of mouth. That's why it's important that when your app is getting listed in the store, you do everything you can to make it discoverable.
Make sure you're using the right words to describe and list the app. The keywords you use to describe your app are not always the words people use to search for that kind of app. Before you fill out info such as title and description, view the popular apps in your category and see the terms they use to describe the app. This can be a helpful guide for picking keywords. If you don't fill confident doing this yourself, there are plenty of sites that can help such as MobileDevHQ and AppCodes. Both companies offer either a free service or a free trial. There are also loads of great tips and checklists on ASO in the Quixey presentation given on app discovery at the AT&T Developers Summit.
4. Enhancement and Features: An App Is a Work In Progress
When someone downloads an app, there's no guarantee that they will use it more than once. So it's important to listen to feedback from customers and make enhancements and updates when you can. Pushing out updates relatively frequently (six to eight weeks), an app that's been downloaded will appear in the update list on a mobile device as a gentle app reminder. If the customer has a better experience they're likely to use it again and tell people about it. Word of mouth is your friend and it's free!
In some cases, there may be an issue with the app that's causing it to crash. That needs to be fixed and shouldn't wait to be scheduled into an enhancement or feature update. Learn more about how to add real-time updates to your app from Mashable's Ask The Dev series.
5. In-App Indexing: Is This the Next App Search Trend?
Google has started to rollout KitKat updates and along with it a new way for consumers to re-connect with apps. The idea is to expose consumers to content already available in an app on the phone when they perform a search. The user clicks a button that says Open In App and the app would open on the mobile device with the relevant content displayed. Essentially, Google is indexing the content in your app so it can show up in relevant search results. That's more exposure for your app. Learn how to update your app and be included in app indexing directly from Google.
What are your favorite app marketing tips? We'd love to hear more about things you've learned on the road to getting your app adopted. Share them in the comments below.
Photo credit: Bayerberg via flickr
---
Share this post