Updated: Jan 04, 2011
Published: Jan 04, 2011
Android Application of the Week: Workouts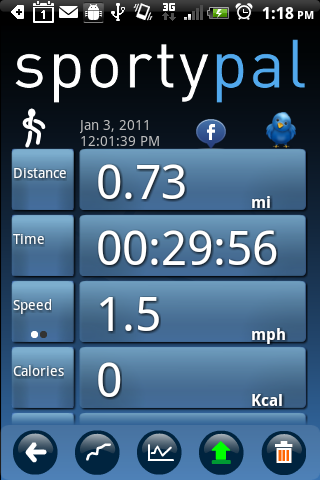 Welcome back and Happy New Year! I ate way too many sweets last month,a nd now it is time to work off a few pounds, and get myself back into shape. I have been testing a few applications that track your workouts, and will present my findings here.
Simplest application: Endomondo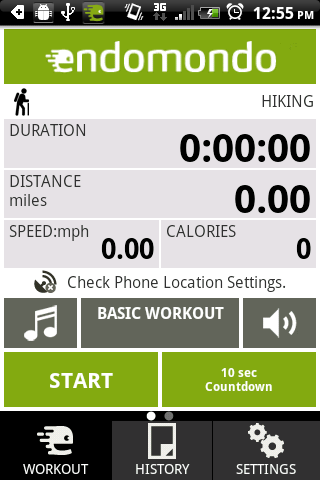 Simple interface shows the type of workout, how long, how far, how fast and calories burned. There are also buttons to the phone's music player.
This application gets the job done with few frills, bells or whistles. You can see the map of your walk when you have completed your workout.
Next: RunKeeper Pro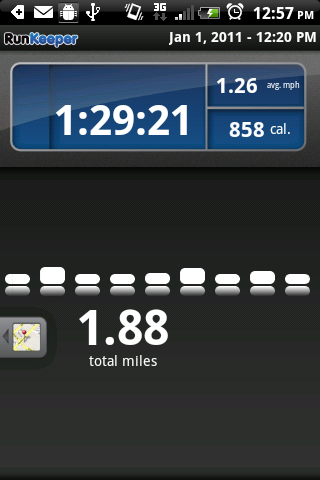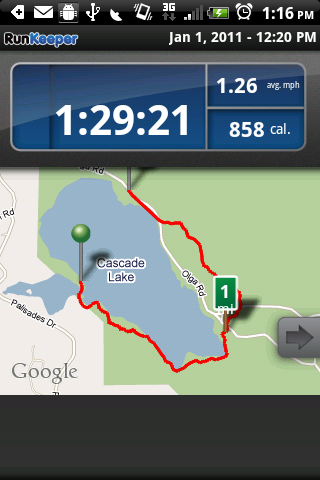 This application is usually $9.99, but is free in the Market through January. This application allows gives you all the information of endomondo, but adds your current speed (averaged over a few seconds) and a live map of where you are in relation to the world. The mapping/GOS was accurate enough that I could tell what side of the street I was on. There are many activities that you can track, running/hiking/skiing/biking/etc. You can also add coaching to your workout, where I presume your phone talks to you, telling you when to speed up and slow down. For example, the 20 minute easy workout appears to be 8 repetitioins of 1:30 steady, 1:00 slow, in order to do 1 slow mile hike. Nice to have a coach on board.
SportyPal Pro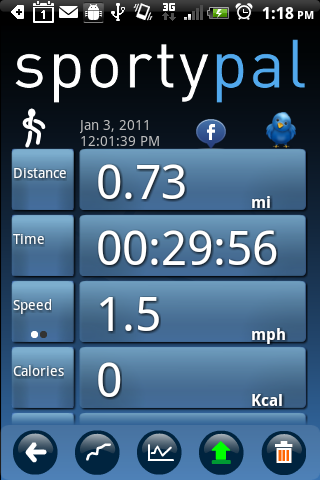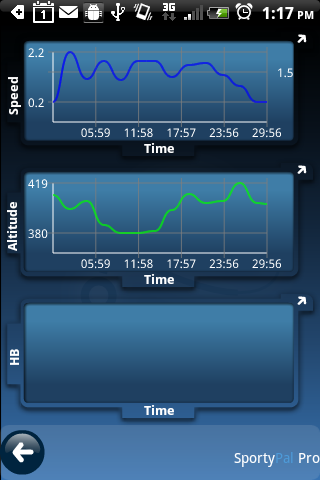 SportyPal Pro has the features of RunKeeper (although the calorie function appears to not work) and adds altitude tracking. As someone who likes to walk and hike in the Pacific northwest – this is a huge addition. My friends who bike (even in the relatively flat midwest) obsess over the feet climbed and decended. It cal also interface with your BlueTooth heart rate monitor to track your heart rate. Runkeeper stores this data, and it is available on the website post-workout, but it is nice to also track this as you are working out. What I really like about SportyPal Pro (as a data junkie) are the graphs that area available on the phone seconds after your workout is completed. I think that is very cool. SportyPal also does a GPS lock prior to starting your workout – this may seem like a delay to your workout (for a few seconds), but some of my RunKeeper walks started off with a 30 MPH segment due to innacuracies in the GPS fix.
All three applications give you Twitter and Facebook share options, so your friends can help encourage your workout efforts. all three are great applications, but the GPS fix and altitude view on the phone make SportyPal my choice application for tracking my workouts. If coaching and calorie burn rates were what I was looking for, RunKeeper would get the nod.
---
Share this post