Updated: Dec 08, 2010
Published: Dec 08, 2010
Android Application of the week: Angry Birds Seasons
I spent a day last week looking at all of the Holiday applications out there. Lots of ringtones, countdown to Christmas, etc. type apps, but surprisingly only a few games.
When it comes to games on iPhone and Android, Angry Birds is definitely at the top, and their Holiday version does not disappoint. It looks similar to the original Angry Birds, with the addition of ice blocks, and snow falling across the screen. For those who have never played, the mean green pigs have stolen the birds' eggs, and they are ticked off. Fired from a slingshot, they aim to destroy those piggies.
There are 24 levels, but, like an Advent calendar, you can only open one level a day to Christmas Eve. A great way to ensure gameplay continues for a whole month (especially since the application is ad supported – ensuring those guys at Roxio get more ad impressions every day). I find myself playing some of the older levels each day as well.
The app also includes the Halloween levels that came out in October. Lots of great gameplay.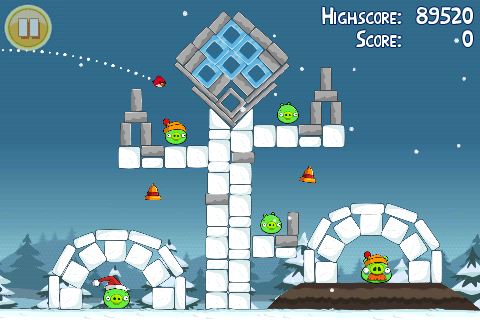 ---
Share this post