Updated: Oct 08, 2016
Published: Oct 11, 2013
An MMS is worth a thousand words.
People say an image is worth a thousand words… does the same apply to MMS? I personally think so. A long time ago I sent out a belated birthday email to a good friend and his reply was very particular, he said "thanks, but it's no cake." The next year, I sent out the celebratory email to this same friend (this one was on time) but I sent a picture of a cake with his name on it. He thought it was funny and memorable, consequently I continued to do the same thing with my other close friends. This year I tried to take it an extra notch up and decided to use the AT&T API Platform SDK for Microsoft® to send out the cake via MMS.
The setup
I started by downloading the SDK from the developer portal, after that I created a new project in Visual Studio® and added a reference to the ATT_MSSDK.dll file.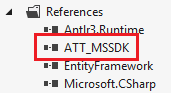 I also added the using directives to my class as follows.

I tried reusing a token I had from a previous session but when it failed, I remembered I had not configured my app for MMS in the Portal. I went back to the "My Apps" section to configure this.
After making sure MMS was added and configured in the Portal like this:

I proceeded to request a new OAuth token. The SDK provides what is called a RequestFactory, this object contains a GetClientCredentials() method to request for the new authenticated token. You will need your appKey, appSecret and redirect URL for this call.
Calling the MMS API
Now we can add the recipient's phone number, a message and the file location of the image to be sent. Using the attachments.Add() method we can add more than one image but for now we will only send our cake.

The "cake"
The result after executing the API call is a cake in your friend's cellphone like this:
This will definitively set you apart from the hundreds of friends who stuck to email or Facebook. If you want to get your own cake and score brownie points, you can get it here.
Empower your conversations
We are all visually inclined; images have the ability to express information (and even emotion) a lot faster than text. In a commercial environment the possibilities and use cases are endless. MMS provides a more actionable story for your mobile users. For example, instead of waiting for them to come, send them a coupon with the barcode for the cashier to scan and see them come to you. Minimizing effort for users will lead to maximum engagement and in the end better user experiences and profit.
So simple you can do it today!
Our SDK makes things very simple and paired with our MMS API you have a very powerful tool to integrate into your apps. Download it and try it today!
---
Share this post