Top 19 Companies in WebRTC
Top 19 Companies in WebRTC
by
Posted on
08.31.2015 01:36 PM
---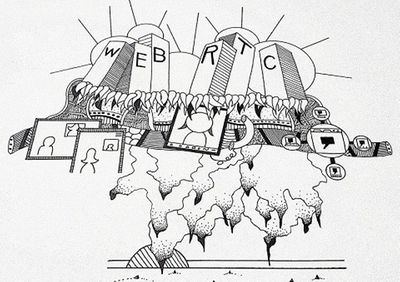 At WebRTC World earlier this year, there was an interesting slide that showed the top users of the WebRTC Stack. This does not mean these are the most important players in WebRTC or farthest along, but just one metric. The list below may not be in the order of usage, and keep reading for some additional comments:
Google: No surprise whatsoever here. The company has been working heavily on the W3C standard and is now actively evangelizing it.
Facebook: Again, not a big surprise. Earlier this year, WebRTCHacks had an article about Facebook's interest in using WebRTC to support video chats in its Messenger application.
Citrix: Citrix is a leader in conferencing solutions with its GoToMeeting product and it has released a product that supports WebRTC.
TokBox: Like the others on the top of this list, the company was kind of expected. TokBox is very involved with WebRTC via its OpenTok PaaS platform, which has a lot of features. The company was acquired by Telefonica, so from the AT&T perspective it is good seeing another carrier involved in the WebRTC segment.
Sinch: This company was a spin-off from Rebtel in 2014. A competitor to Twilio, it offers communication APIs with a focus on ease of use.
Twilio: Offering APIs for VoIP and text messaging, it has a lot of information on WebRTC.
Wire: This is a communications app that is a competitor to Skype. The company launched on iOS and Android version in 2014, but have extended support to other platforms (where Wire for Web is compatible with WebRTC).
Talko: Another communications app that has already implemented WebRTC support. It will be interesting to see how quickly these companies grow.
Screenhero: I like this company name. This company provides a WebRTC-based screen-sharing application and it's now being integrated with Slack.
Comcast: This large cable company seems to be planning to launch its X1 platform with WebRTC capability.
Amazon: The company is using WebRTC with its Mayday customer support product. There was a great article about Amazon's usage in WebRTChacks.
Oracle: It is no surprise to see Oracle looking to support WebRTC in the enterprise.
UberConference: As the name implies, this is a WebRTC-based conferencing application. There are APIs, but they are in a closed beta.
Double Robotics: This company offers a telepresence robot that has a video screen on top and includes an amplified speaker directional microphone. It was featured in the season six finale of Modern Family and it looks like an interesting and fun tool to have around. I could not verify this, but I imagine it employs WebRTC for teleconferencing.
Vonage: A large VoIP providerm, it wasn't clear on its site how they are using WebRTC, but in a BlogGeek article in 2013 they mention WebRTC is being used in Vonage's mobile app.
WebEx: This Cisco product is another leader in conferencing solutions. The company's Enhanced WebEx Collaboration Solution supports WebRTC.
in/Telenor: Telenor is a multinational carrier headquartered in Norway. Appear.in is a video conferencing solution that built on WebRTC.
Hello (Firefox): Hello is a voice and video product (with a button right on the Firefox toolbar).
AT&T: We just launched our Enhanced WebRTC API and SDK in August—a different approach than the other carriers listed.
The list feels comprehensive, with some browser vendors, big apps, conference solutions and carriers. Obvious omissions are the other big browsers IE and Safari. Microsoft has committed to support ORTC in the WebRTC 1.1 standard. The jury is still out on Safari. I did a search on WebRTC on Google and the top listings correspond to this list (Dialogic was the highest ranked company not listed above).
What other companies should be on this list? Please add your opinions in the comments.
---
Share this post
Comments