Updated: Oct 08, 2016
Published: Sep 16, 2015
6 Actionable WebRTC Recommendations To Help Innovate and Disrupt How You Communicate
Guest post by Brent Kelly, President and Principal Analyst at KelCor, Inc.
The implications WebRTC will have on organizations of all types and sizes are enormous. Ubiquitous voice, video, and data that can be used for gaming, customer service, communications, and personal and group engagement opens a new world of possibilities for innovation and disruption. WebRTC is an emerging standard developed by World Wide Web Consortium (W3C) and the Internet Engineering Task Force (IETF) that enables real-time voice, video and data sharing in a web browser without the need for browser plug-ins. Potentially billions of devices supporting a browser – PCs, laptops, smartphones, tablets, and a host of new devices – from a variety of manufacturers will be real-time communications-enabled.
The transformative power behind WebRTC comes from the concept that ordinary web developers using just JavaScript APIs can craft fully functioning voice, video, and data collaboration applications or embed these capabilities within other applications. This can be accomplished with minimal coding and without the need for understanding the underlying communications protocols and networks. Furthermore, the WebRTC standard has been constructed so that encryption is a fundamental component, making it a secure technology for developers to use and exploit.
Unlike most web technology that has a client-server architecture, WebRTC enables peer-to-peer communications directly between browsers or between a browser and any other WebRTC-enabled device. WebRTC also supports a data channel, which developers can channel to do anything they want: share files, do screen sharing, enable markup capability, co-browsing… anything where a peer-to-peer data connection between browsers will be useful.
WebRTC and Mobile Devices: Making a Connection
For those wondering about how WebRTC presently will work on mobile devices, it is important to point out that many toolkits and frameworks exist. So even if a mobile device does not support WebRTC in its browser today, apps can still be built using the WebRTC communications stack that will fully interoperate with other WebRTC-enabled devices.
One of the main complaints critics of WebRTC often express is that WebRTC only works for people who use the Chrome, Firefox, and Opera browsers, leaving those who use Safari and Internet Explorer unable to participate in WebRTC communications (unless they download a browser plug-in, which defeats the basic concept behind WebRTC). The good news is that rumors are emerging from pretty good sources that Apple is working on WebRTC for Safari/iOS, and that Microsoft is doing the same for the new Edge browser. The long-awaited support by Microsoft and Apple for WebRTC is approaching!
How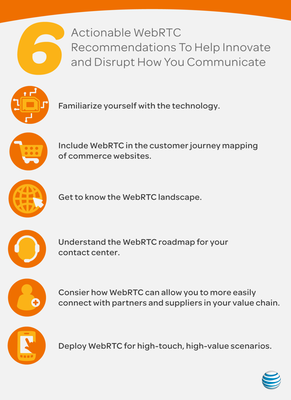 Developers Can Get Started with WebRTC
The implication for Web and app developers is that they need to be getting familiar with WebRTC because it is already appearing in apps developed by well know companies, such as American Express and Citi. One of the easiest ways to start with WebRTC is to use a WebRTC framework that provides some abstraction from the low-level WebRTC code and which also provides functionality beyond what WebRTC provides natively. One critical functional component that WebRTC does not provide is an interface with the public switched telephone network (PSTN). The better WebRTC frameworks have gateway capability so that a person with WebRTC in their browser can place a call to or receive a call from the PSTN.
One of the interesting WebRTC frameworks that has recently become available is the AT&T Enhanced WebRTC API. This is the first WebRTC API developed by a recognized international carrier, and it provides a number of capabilities not available with native WebRTC function calls. Four of its more important capabilities include:


A Directory to Connect with Other Users: In order for two WebRTC-enabled devices to communicate between themselves, there must be some type of directory service or listing that users of these devices can utilize to find one another. One way to do this would be to create a buddy list so that users can click-to-call others who appear in the directory. But, in order for this to happen, the users must authenticate in some fashion with the web server. AT&T's Enhanced WebRTC API provides the capability for developers to create these kinds of directories so that people can easily find and connect with one another.


Gateway Service to Enable Calls: Many applications will require users to either call out from their WebRTC-enabled endpoint to the PSTN or receive inbound calls from the PSTN. The AT&T API enables this using AT&T's network and its cloud gateway services.


Enabling Traditional Mid-call Controls: The AT&T WebRTC Enhanced WebRTC API provides controls that allow developers to create interfaces so that users can have the typical mid-call controls they are used to, such as call mute, transfer, hold, etc. These capabilities are not native to WebRTC, and a developer would need to build them from scratch if the developer did not begin with a framework that offers them.


Single Number Reach Service: For those users who have AT&T Wireless mobile plans, the AT&T Enhanced WebRTC API allows WebRTC calls to be routed to and from the mobile handset. Thus, a WebRTC-originated call can be routed to a person's mobile handset if they are an AT&T mobile user.
Engaging Opportunity: Customer Service
Probably, the biggest immediate WebRTC opportunity for enterprises and anyone with customer service or outreach initiatives is to consider how it could be used in customer engagement scenarios. This is where the low-hanging fruit will be found for the typical enterprise.
In customer support and service environments, the ability to share what is displayed on the screen using WebRTC's data collaboration capabilities or to see a video image, not only of talking heads, but of the problem the customer is describing or the proposed solution, is a tremendous opportunity – particularly when these capabilities are built into the browser.
Any organization operating a contact center should be considering how WebRTC functionality can be added to it. AT&T's Enhanced WebRTC API can work with existing Genesys, Avaya, Cisco, and Interactive Intelligence contact centers, and it will likely work with any contact center that supports JavaScript API development.
There are many other possibilities where WebRTC can be used in addition to customer engagement to make money or generate influence. These include:


Training/Education – Facilitating remote education as well as "peer" learning. WebRTC is already being used to help people engage in informal hobbies such as gym workouts and music or language lessons.
Remote Expert – There is a trend right now in the video world to set up kiosks in a number of disciplines to make scarce expertise more broadly available. Healthcare, financial services, wealth management, recruiting and some retail outlets are creating such kiosk applications. In the near future, they can be done using WebRTC versus using the solutions offered by the traditional video conferencing vendors.
Remote Control – WebRTC may be able to work into machine-to-machine communications through both the data channel and with audio and/or video. Applications may include physical device control, alarms, signaling, real-time location awareness, etc.
New Over-the-Top (OTT) Services – This provides communications riding on carrier networks for which the carrier receives no revenue. Skype and Vonage are popular examples of existing OTT services. There is speculation that WebRTC will foster a host of new OTT communications services.
Broadcasting – This parallels existing streaming mechanisms with the difference being that plug-ins wouldn't be required for the browser. This capability will be available to any organization with a need to broadcast content.
Gaming – WebRTC delivers voice- and video-enabling to multiuser games of all kinds.
6 Actionable Recommendations to Embrace
CIOs, CMOs, Chief Customer Officers, and other decision makers should begin now to plan for how they will leverage WebRTC within their organizations. The following recommendations may be helpful:


Familiarize yourself with the technology. Encourage people on your staff to become familiar with WebRTC. It is disruptive and can be used both to disrupt your competitors and for them to disrupt you.


Include WebRTC in the customer journey mapping of commerce sites. Organizations with online/mobile stores and online/mobile customer service capabilities should consider how to incorporate WebRTC within these websites. Go through the exercise of imagining how customers and prospects could be better served by being able to quickly and easily engage with pre-sales or customer service experts through audio or video in their browser. Consider how this could disrupt your competitors.


Get to know the WebRTC landscape. There are numerous WebRTC content sites and organizations providing WebRTC-based products and services abound. AT&T provides an excellent WebRTC framework, and the costs of using the AT&T Enhanced WebRTC API framework is highly competitive.


Understand the WebRTC roadmap for your contact center. In conjunction with becoming familiar with the technology, contact center managers should begin engaging with their sales, marketing, and product teams to develop a roadmap on when and how to support multi-channel WebRTC capabilities. Discuss how customer context could be used and how the WebRTC data channel may provide differentiating capabilities for your organization.


Consider how WebRTC can allow you to more easily connect with partners and suppliers in your value chain. The use of video communications has typically been difficult and/or expensive. WebRTC will change this. You may still need to provide video infrastructure for larger video conferences, but using WebRTC-based solutions will make video communications between organizations much easier.


Deploy WebRTC for high-touch, high-value scenarios. Consider how WebRTC can enable richer and more frequent inbound and outbound engagement. Immediate examples include website sales sites, video communications with high net worth clients, tele-health, distance learning, broadcasting, and insurance adjustment.
WebRTC will disrupt how we communicate with customers, suppliers, partners, consumers, family, and friends. For organizations and end users, what will change is the ubiquity of communications: it will be supported in every type of application imaginable.
What do you see as the future for WebRTC? Let us know in the comment section.
---
Share this post