5 Hackathon Roles That Have Nothing to Do with Coding
5 Hackathon Roles That Have Nothing to Do with Coding
by
Posted on
09.14.2015 02:14 PM
---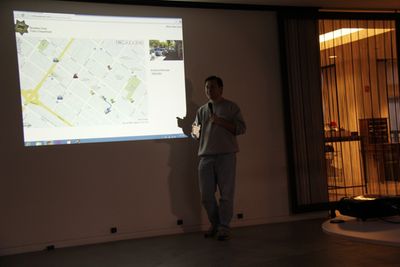 Guest Post by JeanCarl Bisson, Developer and Co-founder of Sleek-Geek Inc.
I get to talk to people every day at various technical and non-technical events. When I tell people about my habit of attending hackathons, I often hear about their desire to attend a hackathon. Unfortunately, this is often matched with disappointment because many people feel that since they don't write code, they would not be a successful contributor to a team.
They are totally missing out on an awesome opportunity to network, to contribute their unique talent, and to make a difference. Everyone, and I mean EVERYONE, can make a contribution and a difference.
I still remember my first hackathon. I was scared. I didn't know what was going to happen. I was a "terrible" coder and didn't socialize. I didn't have any ideas. And I couldn't design anything to look good. Why would I waste my valuable weekend only to have it end up being a disaster that I would want to forget immediately?
I didn't see the bigger picture. I did have something to contribute: My perspective, my experience, and my passion, just to name a few. I'm glad I signed up and attended my first hackathon. It took guts to try something new. I guarantee that you won't regret it if you give it a try.
I learned so much during my first hackathon: how to work under pressure, how to collaborate with strangers and build something quickly, how to present in front of complete strangers, and how the way I interacted with others impacted the outcome. Over 100 hackathons later, I'm still learning new things about myself that help me understand who I am in this world. I still panic as the clock is ticking down and I frantically type the JavaScript to make all those buttons work right.
You Don't Need to Code to Be a Valued Hackathon Contributor
So what can you bring to a hackathon? First, think about a skill you have. Do you speak well and motivate people? You should pitch the prototype. Can you draw really pretty stuff? Design the prototype. Can you read documentation and work with protocols? Work with an API and extend the app to work with a sponsor's technology. Can you write code? Those buttons don't magically work themselves! Can you analyze data and make predictions? Be a domain expert. Can you sell ice to an Eskimo? Figure out the business plan and market strategy.
None of these, eh?
Well…you got a problem. No…Seriously…
You HAVE a problem to solve.
You get the opportunity to bring an idea to the hackathon and convince people to join you and build it into reality. That's the best part!
Here is a list of common roles and what they do:
Ideation Person: You come to the hackathon with an idea of an app that could solve a problem you have experienced personally. We all have problems and want to solve them. Your passion to solve this problem motivates others to get behind the problem as well.


Designer: You can make beautiful things. Your artistic talent provides a solid appearance to any concept. We all like pretty and good looking things. You know the right colors, the right shapes and the right design to make the moving parts fit together seamlessly.


Frontend Developer: You make buttons do stuff. You make screens transition. You take the designs and make them function. You are a key player in making sure the user flow works correctly.


Backend Developer: You work with APIs that sponsors bring to the hackathon. You save data to databases. You send emails and notifications. You glue stuff together to make it all work together seamlessly.


Domain Expert: You have in-depth knowledge about how an industry, organization, or process operates and makes decisions. This knowledge shapes the product to avoid pitfalls and to find niches that add advantages. Data analysts, healthcare professionals, teachers, and other specialists provide valuable insight into how a product will be adopted.


Business Expert: You determine the business advantages of the solution and why it's going to be successful and profitable. You figure out how the product will generate revenue from day one, and how partnerships can accelerate growth.


Marketing Guru: You know how to sell anything to anyone. You spin product descriptions to be irresistible commodities. It doesn't matter if I don't need your product, you can convince me to try it free for 30 days and then I'll end up paying for it because I have fallen in love with it!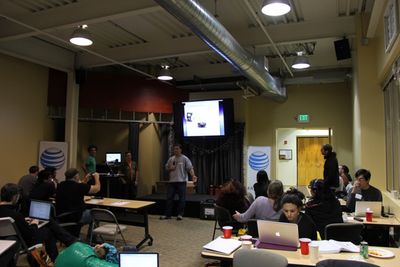 The Real Hackathon Payoff
The hackathon experience might feel intimidating at first, but when you take on one of these roles, you will walk away with something at the end of the weekend – Be it a new approach to an existing skill you already have or something shiny that you can show off and be proud of.
The secret is that you don't need to have these talents beforehand. We've all desired to be someone else. If you really want to be a frontend developer, you can be one! Find someone who has this desired talent and ask if you can shadow them. As a developer, I'm eager to share with a non-developer my process of how I build stuff.


Coming from a developer background, I've learned things about marketing, graphic design, and data science. Through hackathons I've been exposed to industries including healthcare, gaming, and government. I've learned more about the world I live in, and learned about the people who are responsible for making things happen. I likely wouldn't have been connected to these opportunities outside of hackathons.


Aside from learning a new skill or approach, the satisfaction of trying something new, learning how to prototype quickly, and hopefully building a functioning app that you can show off with pride to your friends, family, colleagues and employers is the ultimate payoff. You leave with something tangible that you can point at and say you were a part of creating it. While some see the prizes and recognition on stage as the payoff, these are just icing on the cake.


One last thing: You don't need a friend to come with you to the hackathon. A wingman/woman isn't required. Just bring yourself and your tech gadgets. You never know. You could be writing code at the end of the event and working with your new friends on the next startup.


What is your unique talent that you could bring to a hackathon? Interested in attending an AT&T Hackathon? Find upcoming events in your area here.
JeanCarl Bisson is a web developer and Co-founder of Sleek-Geek building mobile tools and games for the classroom. His team built the Read With Me app, a reading assessment platform, and won first place at an AT&T mobile education app hackathon. JeanCarl was also a part of the 2015 AT&T Developer Summit winning team with the Anti-Snoozer app. Read his other AT&T Developer Program guest blog posts: What to Expect at Your First Hackathon, Futurecast at the AT&T Foundry: Nir Eyal and Habit-Forming Products and Conquering Enhanced WebRTC API with Story Time.
---
Share this post
Comments