Updated: Sep 17, 2015
Published: Sep 17, 2015
5 Blimey Apps To Help You Slightly Hornswaggle Talk Like A Pirate Day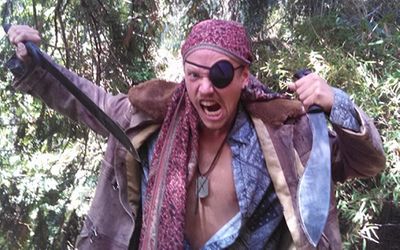 It's time to hit the high seas this Saturday to celebrate the annual Talk Like A Pirate Day. Since 2002, an activity that use to be something done among friends has become an International holiday where people don an eye patch and dress in their favorite pirate attire to celebrate. To make the most of the day, we've rounded up five free pirate-privy apps that can help you understand pirate talk, generate insults and jokes, and even deck out your favorite pictures in pirate gear.
1. Make Me A Pirate: Ever wonder if you would make a good-looking pirate? Now you can find out with the Make Me A Pirate App. You can take a picture of yourself or use one f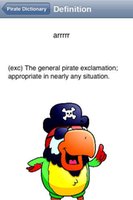 rom Facebook and see how it transforms you into someone who looks like a member of Black Beard's crew. Like what you see? Use it as your profile picture on your favorite social media site. There's a version for Android users and one that's a bit more cartoon-y for iPhone users called Make Me Pirate.
2. Pirate Dictionary: On Talk Like A Pirate Day, it can be hard to decipher what people are saying with words like "begad" and "hornswaggle" becoming part of the vernacular. The Pirate Dictionary iPhone app has got you covered. With it's help you should have no problem ordering eggs for breakfast… just ask for some "Crackle Fruit."
3. Pirate Name Generator: To truly have a successful Talk Like A Pirate Day, you're going to need a proper name for a swashbuckler such as yourself. The free A.K.A – Your Favorite Name Generator app for iPhone will give you a proper Pirate Name like "Curly Spyglass Broadside." Since it also has a Jedi mode, you can use it again next year to celebrate May the Fourth Be With You.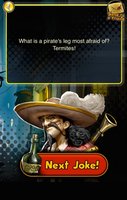 3. 1001 Pirate Jokes: Looking for a few good (ok, a little corny) pirate jokes to tell during the festivities? The free Pirates of Black Cove: 1001 Pirate Jokes app is full of laughs. The creators of the app have taken the jokes from the PC game Pirates of the Black Cove. You can even send the joke to your mates via email directly from the app.

5. Pirate Utility: This is like the Swiss army knife of pirate apps and has everything you need to get in the swing of Talk Like A Pirate Day. The free Pirate Utility Lite app for iPhone includes a translator, photo enhancement features, and an insult generator so you can tell someone, without batting your one good eye, "I'll giv' ye no quarter, ye vile, scabby mongrel!" You can share your photos, insults, and proper pirate bilge.


Get Some Pirate Booty
If you're a pirate – or at least acting like one for the day – you're going to want to find some buried treasure. Here are some places that are celebrating the day with some free booty:
ThinkGeek: Get a free Talk Like A Pirate t-shirt with any $25 purchase.
Krispy Kreme: Talk like a pirate in the store for a free donut. Dress in true pirate style – that's right, no "long clothes" – and you'll get a free dozen.
Long John Silvers: When you place your order, talk like a pirate and you'll walk away with a free piece of chicken or fish.
We hope you can use these apps to start getting ready for Talk Like A Pirate Day. After all, we don't want you to walk the plank. Tell us about your favorite pirate app in your best pirate speak in the comments and you might just get some buried treasure.
---
Share this post