Updated: Jan 04, 2016
Published: Jan 04, 2016
2016 AT&T Summit Winners – 300K worth of award winning ideas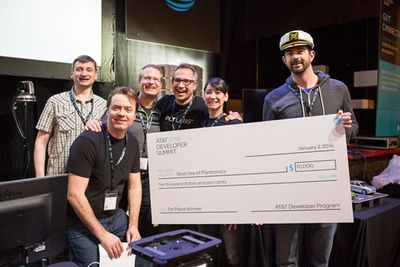 Updated, January 12, 2016: Grand prize winner announced.
At this year's hackathon, we had more than 40 prizes that combined for over $300,000 in cash and prizes. Even if a team didn't make it to the presentation round, there were still plenty of challenges and Kicker contests they could win. The teams didn't disappoint, they created innovative solutions to challenges that involved tackling issues such as sustainability, education, and the future of smart cities.
Some of the winning teams were groups of people who had known each other for years, while others had met less than 48 hours ago. There were teams that were a family affair, while others had driven all night just to make it to the event. All of the teams had interesting stories of how they knew each other and why they were tackling the challenge they had chosen. Stay tuned in the coming months to learn more about their stories on this blog.
Prior to the event, teams had one challenge they could tackle before arriving in Las Vegas. Developers could test their app using ARO and submit their findings to the ARO Challenge. The entry with the most efficient app measured by ARO won $5,000. Join us in congratulating the developers of NASA News and all our hackathon winners.
Hackathon: Best Overall App Prizes Finalists
Developers needed to use AT&T APIs to be eligible for the Grand Prize. In the meantime, here are the three finalists, you can learn more about their apps and watch the presentations here.
Team KineticCare – 1st place
Team LevelUp – 2nd place
Team QuizTV – 3rd place
Winners of the Accelerator Challenge Prizes – $10,000 Award Each
Smart Cities App Challenge – Canary
Sustainability Challenge – Mirror Mirror
Education App Challenge – See and Read
Entertainment App Challenge – QuizTV
Connected Home App Challenge – Help I've Fallen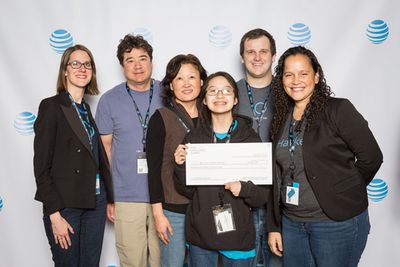 Sponsor Challenge Winners – $10,000 Awards Each
Best Use of Plantronics Technology – Help I've Fallen
Best Use of Intel Edison – Baby's Breath
Qualcomm Technology Challenge – KineticCare
Best Use of Samsung SmartThings – Baby's Breath
Ericsson Technology Challenge – TransNow
ID Platform Challenge from Nantmobile –FakeFace
Kicker Contest $5,000 Prize Winners
Best App From a Women Led Team – Vize
Best Use of AT&T M2X – Rally
Best Use of AT&T Flow Designer – Peer
Best Use of AT&T Sponsored Data API – KineticCare
Best Use of AT&T Digital Life – Mirror Mirror
Best Use of AT&T Smart Cities – TransNow
Best Use of AT&T Enhanced WebRTC – Dance4Healing
Best Use of AT&T Drive – Park Smart
It Can Wait Challenge – Odysseus
Best Use of AT&T Enhanced Push to Talk APIs – Dynamic Bus System
Best Use of AT&T Data Rewards APIs – GHS
Best Use of DIRECTV APIs – Quiz.TV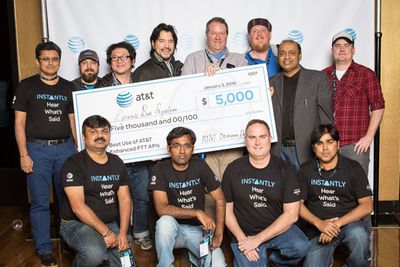 Sponsor Kicker Contest $5,000 Prize Winners
Best Use of IBM Bluemix – See and Read
Best Use of ARM Mbed IoT Device Platform – Memory Lane
Best Use of U-Blox Technology– Thank You
Best Use of Konekt Dash– ShockWatchAwesome
Best Use of Alcatel-Lucent Call Management APIs – Smart Home for Elderly
Best Use of Alcatel ONETOUCH – Mirror Mirror
Best Use of STMicro – The Baby iLove
Best Use of Whitepages APIs – Metr
Best Use of KANDY.io – Prize.TV
Best Use of NXPSemiconductors Technology – SmartLights
Best Use of the Alexa Skills Kit – Baby's Breath
Best Use of Harman APIs – $5,000 in Audio Equipment – KineticCare
Coding House Challenge – $5,000 Scholarship – Bingeez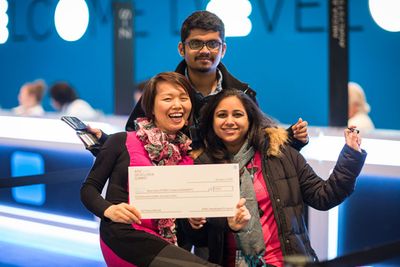 Additional Prizes Winners
Best Use of Gimbal – Apple Smart Watches – Xupport (2 watches)/CrowdSourseSense (2 watches)/Dibstr (1 watch)
2nd Place Best Use of DIRECTV – $2,500 – SnapDirect
3rd Place Best Use of DIRECTV – $1,500

– Bingeez
You can watch all the action from the event, we are broadcasting live at #ATTDevSummit on Periscope January 2nd – 5th. Just follow us on Periscope (@attdeveloper) to join the fun.
---
Share this post