Updated: Dec 10, 2013
Published: Dec 10, 2013
2014 AT&T Developer Summit Hackathon – Details Revealed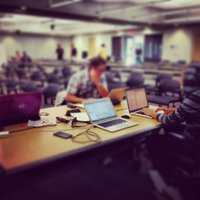 It's about the time of year to announce the 2014 AT&T Developer Summit Hackathon in Las Vegas at the Palms Casino Resort on January 4th and 5th! Last year over 600 people attended the event, coding over 70 mobile apps in an attempt to take home their share of over $200K in prizes.
This year, we're looking to kick things up a notch with two (that's right, two) keynote fast pitches. Developers will have the option of choosing between two tracks, either coding a mobile app leveraging a wearable device or building a polished mobile app that leverages AT&T APIs in a significant way. The top three teams from each track will be selected to pitch their products on stage for a chance to win one of two $25,000 grand prizes. Remaining finalists will take home either $10,000 for second place or $5,000 for third place for their respective tracks.
Don't worry if you don't make it on stage to pitch, you will still have a chance to win one of our Accelerator Challenges, each featuring a prize of $10,000 in cold hard cash. Be sure to check our blog throughout the month of December as we post details about each challenge so that you can hit the ground running on January 4th!
---
Share this post