Updated: Nov 14, 2012
Published: Nov 14, 2012
2013 Developer Summit: Evening Entertainment Update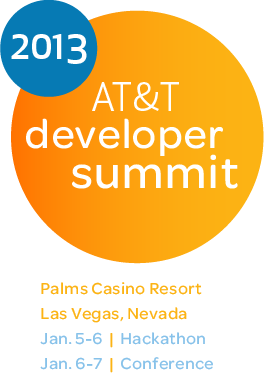 We've got a special update for you over on our Developer Summit site regarding the evening entertainment at our Dev Summit event January 5-7! This exclusive concert at the Rain Nightclub at the Palms Casino Resort is sure to be the perfect end to an awesome day.
In addition, this year's event will be packed with valuable information about emerging technologies, as well as multiple opportunities to network with the industry's top professionals and experts. From the latest technologies and developer tips to up-to-the-minute platform/device information and mind-blowing entertainment, the 2013 AT&T Developer Summit is a must-attend event for mobile application developers.
Early registration for the event ends this week, so be sure and sign up today if you'd like to save $50 on registration.
Use hashtag #ATTDevSummit on Twitter to connect with fellow attendees or to ask us questions.
If you have a private question for us about the AT&T 2013 Developer Summit or require assistance, please contact us at: Registration@2013devsummit.com
---
Share this post