Updated: Dec 15, 2017
Published: Dec 07, 2016
10 Must-see augmented reality apps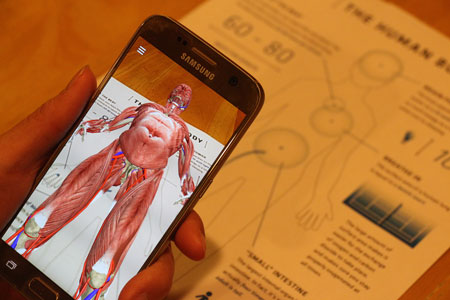 Earlier this year, while the general public was still wrapping their heads around virtual reality  (VR), a little augmented reality (AR) app from Niantic called Pokemon GO, took the world by storm with over $250M of revenue in just 5 weeks. While AR mobile apps are not new, the recent interest in this technology and the plethora of available apps, compels us to take a fresh look at some exciting AR apps.
AR Enhances Reality
With terms like VR, AR, and mixed reality (MR) floating around, it's worth a moment of our time to remind ourselves of the technology differences. When we explored topic in July, we said:
AR enhances your existing environment by superimposing generated images or video over real world views. This added layer provides information about what you might be seeing. 
So AR enhances reality while VR creates a different reality altogether.
An example of this distinction includes showing points of interest such as restaurants or historical landmarks over your surroundings that appear on your phone screen. Another example would be seeing Squirtle lurking in the corner of the room before you catch it with your pokeball.
AR History and Mobile
To many of us, it may be surprising to hear that AR is not new. A lighter though more deadly form of AR goes back to the 1918 German aircrafts that used reflector sights to help fighter pilots aim the airplane's machine guns – a rather simple, but effective heads up display.  In a more benign application in 1996, Stan Honey invented the FoxTrax, or Glow Puck, to help hockey fans better track an electro-magnetic transmitting puck during NHL games. Two years later at the start of the 1998 NFL season, ESPN launched the virtual yellow first down line – something we now all expect to see when we sit down to watch our favorite teams on any given Sunday.
Due to heavy computing and display demands, very few AR apps were portable (i.e. pocket-sized) nor were they accessible to the average citizen – until now.  The widespread use of smartphones with built-in video cameras, the high-powered CPUs that rival the first space shuttle, and the fast LTE access to data, has given us access to AR apps that only Hollywood could have imagined.
In-app Purchases and Data Usage
Although the app itself may be "free," between downloads and data communication, all of the apps mentioned will likely incur data usage/charges.  Additionally, while fun can be had with the free version of these apps, there will be paid upgrade versions or in-app purchases to unlock additional features.
10 Must-See AR Apps
For our list, we've selected ten apps and listed them here in no particular order. Given my penchant for frugality, the apps will be the "free" or "freemium" version that work without requiring additional peripherals. In most cases, I will list multiple apps for the same category –  so to some degree, we're really selecting ten categories of AR apps.
1. Aurasma from Aurasma Studio (Android, iOS) – Create AR Overlays
If you're itching to create your own AR app, try Aurasma. In just a few steps, this AR app allows you to bring images and objects to life by creating "Auras." For each Aura, you define an overlay such as another image, a video, or a 3D model, and then take a picture of the image to trigger the overlay. Each Aura can be kept private or shared privately or publically. You can also browse other public Auras from users. Auras can be created directly on your phone or on their website. While this AR consumption example is commonly used in ads or other printed materials such as brochures, Aurasma is one of the few apps that allows you to create an AR overlay.
2. IKEA Catalog (Android, iOS) – Enhanced Shopping
Need help visualizing how that new couch or comfy chair might look in your room? Look no further. IKEA's Catalog app has a "Place furniture in your room" option that adds new furniture items right in your room without all the hauling, assembly, frustration, and extra parts. This is one of the many growing examples of how retailers are using AR to enhance the shopping experience.One other notable example is Lego boxes in the Lego stores, which uses AR to enhance product visualization.  Foundationally, the AR apps are just overlaying 3D images and animated 3D images over the recognized image, but the result can be magical to kids (of all ages). Another example of this type of app is the Augmented Reality app from (Android, iOS).  Rather than Lego creations, this app shows commercial applications how 3D visualizations might help in architecture, food and toy packaging.
3. Crayola Color Alive from DAQRI (Android, iOS) – Kids Entertainment
If you've got kids, the Color Alive app brings their coloring books to life. If your child already has Crayola's coloring books with popular themes such as Disney's Frozen, Marvel Avengers, Mattel's Barbie, or Minions from Universal, just scan the colored in image and they'll see a 3D animated image come to life with the same colors as your 2D image. The animation brings a whole new level of excitement to your child's creations. If you don't have one of Crayola's coloring books, don't fret you can print a couple of pages right from the app. Alternatively, there's a family of freemium AR apps called Quiver that covers 3D coloring (Android, iOS) and Fashion/Modeling (Android, iOS).While not a coloring app, kids will also enjoy playing with Real Dragon Pet from A&A Games (Android, iOS).
4. The Walking Dead Dead Yourself from AMC (Android, iOS) -Zombification Apps
For those zombie fans, how about an app that creates an interactive version of you as a zombie?  Capture a still image of yourself and then the app uses image recognition software to animate your eyes and mouth. You can even interact with your zombie self as it tries to bite your finger. An alternative app is ZombieBooth 2 from Tyffon, Inc. (Android, iOS).
5. Tattoo Me Camera by Riley Cillian (Android) – Photo App
For a little fun, how about getting yourself tattooed to the gills? Better yet, how about avoiding all the pain and regret getting an unwanted tattoo can create by using an AR photo app instead? Tattoo Me allows you to preview yourself with a wide selection of tattoos by either using an existing photo or overlaying a live camera view. There are options for different body parts along with a social component for sharing and rating. Why not try it out and give your mom or significant other (while you're on a business trip) a bit of a scare?
6. Pokemon GO by Niantic (Android, iOS) – Scavenger App
Even if you're not a Pokemon fan, you should try this app to experience the Pokemon Go craze for yourself. Download the app, go outside to a local park, catch a few pocket monsters (or Pokemon) and you'll begin to understand the craze. When I tried this app, I  was surprised at the effect it hadon the behavior of its fans. During the summer, I found several parks in the greater Seattle area, normally empty, filled with hundreds of people trying to catch them all staying late into the evening. More recently, a rare Pokemon (Snorlax) in Taipei, Taiwan resulted in a mad stampede. If Pokemon isn't your thing but if you like the idea of seeing an alternate reality around you with "mysterious energy" and battling others for territory, then you should try out the predecessor to Pokemon Go – Niantic's Ingress (Android, iOS).
7. MovieRide FX by Waterson Entertainment (Android, iOS) – Video Editing
If augmenting photos onto body parts live isn't your thing, how about augmenting video? MovieRide FX captures a short video and then edits it with a short clip that you pick.  Your free clip choices includes getting lost in space, being fried by lightning, getting splattered in a transporter experiment and others. Of course, there are also some paid choices.
8. Anatomy 4D by DAQRI (Android, iOS) – Educational
Like the Crayola app, this Anatomy 4D overlays a 3D animation of a heart or the human body over a printed image. The key difference is the interactive nature of the animation. For the human body, you can literally strip away skin, bone, muscles, and other biological layers to see one layer in isolation – say, the nervous system. You can also examine different aspects of the heart including the cardiac cycle. Even if you aren't a medical student, you'll find this app fascinating. In addition to learning about the anatomy, you'll get a peek into how AR might affect learning in the future.
9. Augment – 3D Augmented Reality (Android, iOS) – B2B
The primary use case for this app seems to be showing off retail displays. However, anyone can use this app to upload and view any 3D designs. Retail store owners are typically presented with different merchandising options (e.g. different sized Coca-Cola refrigerators or temporary cardboard displays), but this app allows retailers to see how it will look in their store by previewing the 3D images with AR. Even if you're not a retailer, take a look at the hundreds of 3D models in eight different categories including merchandising, architecture, art, and design. In AR, you'll be able to see around the 3D image while seeing how it would look in your environment. If you're ambitious, you can also upload your own 3D models for others to share in AR.
10. Sky Map (Android, iOS) – Educational, Astronomy
While few of us are familiar with the night sky, most of us want to gaze at it and be able to identify the planets, stars, and satellites. Fortunately for most of us, there are a wide selection of easy-to-use apps that can be our guide to the stars. Just point your phone towards the sky and see the names of what's up there or point your mobile towards the ground and see what the Earthlings on the other side of our planet are seeing.In addition to Sky Map, you should also try:
Star Chart from Escapist Games Limited (Android, iOS) – This app also includes information on distance, Azimuth, and Altitude. Note: There is an in-app charge for upgrades such as satellites and meteor showers.
Satellite AR from Analytical Graphics (Android) – While the initial screen of man-made objects is very hard to read due to the small font size, the final AR overlay makes it easy to spot whatever satellite you're looking for.
If you take the time to sample just a few of the free AR apps listed above, I think you'll agree that the potential for AR is pretty impressive. Hopefully, we've opened your mind up to a few new apps. If you have a favorite AR app that you didn't see on the list, please let us know.
For more articles on AR, VR, and all things video, see our new AT&T Video and VR site.
---
Share this post