Updated: May 04, 2015
Published: May 04, 2015
10 Apps Star Wars Characters Might Create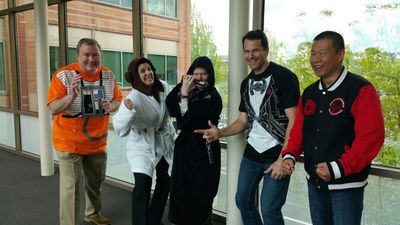 We are celebrating May the 4th Be With You day and the upcoming Star Wars: Episode VII – The Force Awakens movie coming this summer developer style. Have you ever wondered what apps Star Wars characters might create if they had mad developer skills? Well, we did, and here's what we imagine each character might build:
Darth Vader: Seduced by the dark side of the Force, Darth Vader started his life as a skillful mechanic. This is why he would create Drone Command Fleet, an app that could control all drones in the galaxy. The app would include an alert feature that would let the user know when someone was showing signs of siding with the dark side. Once spotted, the app would project a holographic image to them of Darth Vader urging them to come to the dark side.
Chewbacca – The cries of the Wookiee Warrior could get anyone to fight for the Rebel Alliance as they try to restore freedom to the galaxy. To help spread his message loud and far, he'd create Wookiee That, a soundboard app complete with a list of corresponding sounds for different emotions. After all, he is also known for his big heart. Of course, there would be an option to save one of his sounds as a ringtone. You know, in case Han Solo calls.
Han Solo – This Rebel Alliance leader really knows his way around his Millenium Falcon. He's also been known to get himself out of some tough spots (in space and on the ground) with the help of his co-pilot and loyal companion Chewbacca. Who wouldn't want his Fly Solo Style piloting app? In addition to basic maneuvers, this app would show users how to survive a galactic fight and provide negotiating tips.
Luke Skywalker – This humble farm boy spent years becoming a Jedi. He'd create Mind Tricks, a self-help app that would teach users how to become one with the Force and learn to trust their instincts. It would include game scenarios both on the farm and in a galaxy fight that would rate the Force within each user based on their game play.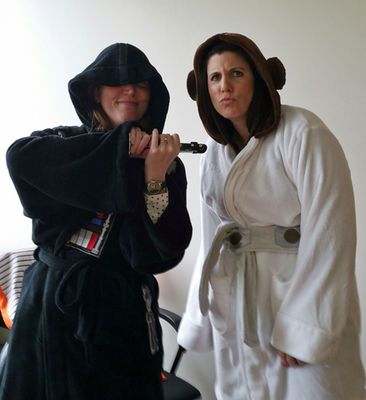 Princess Leia Organa – One of the strongest women in the galaxy, Princess Leia was one of the biggest assets in the Rebel Alliance. Let's face it, most people remember her for her stylish braided side hair buns. That's why Go for Buns would be a photobomb app that users could use to strategically add those buns to any photo taken with a camera phone.
Jabba the Hutt – Literally one of the biggest characters in Star Wars, Jabba the Hutt was a ruthless gangster who believed more is well, more. He'd create Eat More, a calorie counting app focused on getting the biggest caloric gain for your buck. Users would enter food into the app and it would provide suggestions on how to add more calories. For example, enter a slice of pepperoni pizza and it would reply have two pieces and smother it in ranch dressing.
Emperor Palpatine – Far from a young man, he's busy living a double life in order to destroy the Jedi Order and ultimately rule the galaxy. He would create Dark Capsule, a pill reminder app, because sometimes even evil dictators need a little pharmaceutical help to keep them on top and remind them which role to play and when.
Yoda – He may be petite, but he packs a powerful punch. This wise Jedi Master is well known for his unique way of speaking. Who wouldn't want to be able to consult Yoda when making big decisions? His app, Ask Yoda You Will, works similar to a Magic 8 Ball. Users would ask a question, tap the phone, and get a response such as "Do or do not. There is no try" and "Adventure. Excitement. A Jedi craves not these things."
R2-D2 – A faithful droid companion to his friends in the Rebel Alliance, he can fix just about anything. Unfortunately, the only one that really understands what he says is C-3PO. Since we'd all like to know what he's saying, he'd create Droid Chat, a speech translator app. Users would simply speak something into the app and it would provide the droid version of it and vice versa. Of course, it would work with the multiple languages in the galaxy.


Boba Fett – A legendary bounty hunter, Boba Fett has no time to waste and is excellent at finding his targets. His app, Boba Tracking, would come with a set of 10 Beacons that users could place on items they misplace often. Users would use the app to associate the beacon with the item. When they couldn't find the item, they simply select it in the app and then follow a GPS map that would lead them to it.
How'd we do? We'd love to hear your thoughts on our app ideas or if you feel a character would definitely make a different type of app. Let us know in the comments.
---
Share this post